Frank Lampard: Will Chelsea regret him joining Man City?
Last updated on .From the section Football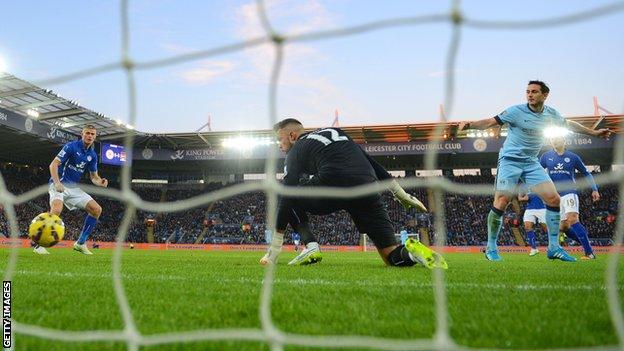 Discarded by Chelsea last summer after 13 years of service, it seemed that Frank Lampard's Premier League days were over.
But after signing for New York City and then arriving at Manchester City, the 36-year-old could yet help his new club deny his old team-mates the title.
He scored a key goal as City drew with Jose Mourinho's men back in September, and his winner at Leicester on Saturday moved him level with Thierry Henry's haul of 175 Premier League goals.
Lampard is due to head to the United States in the New Year, but will he prolong his stay at City instead? And how much of a difference could he make to the title race?
Leading scorers in the Premier League

Player

Goals

Games

Clubs

Alan Shearer

260

441

Blackburn, Newcastle

Andy Cole

187

414

Newcastle, Manchester United, Blackburn, Fulham, Manchester City, Portsmouth

Wayne Rooney

178

385

Everton, Manchester United

Thierry Henry

175

258

Arsenal

Frank Lampard

175

588

West Ham, Chelsea, Manchester City

All stats correct as of 13/12/2014
'Most effective Premier League midfielder ever'
According to Match of the Day pundits Robbie Savage and Danny Murphy - both former international midfielders - Lampard has qualities Manchester City can ill-afford to lose in January.
"He is hugely important, especially as fixtures get more and more important," said Murphy. "He will only get properly appreciated when he is finished.
"If I was at Manchester City I'd be doing everything to keep him."
Savage agreed: "He is a legend on and off the field, and I would say is he the most effective Premier League midfielder ever."
'He could be a huge signing'
Former Arsenal and Wales forward John Hartson on BBC Final Score: "Frank Lampard is now up to fourth on the list of leading goalscorers of all time in the Premier League. He could prove to be a huge, huge signing for Manchester City. He's not just a bit-part player for them, he's a big player.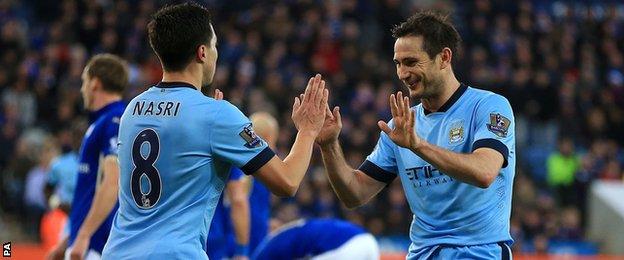 "Manchester City are on Chelsea's tail. They will want as much talent as they can and will be wanting to hold on to Frank Lampard until the end of the season. Chelsea boss Jose Mourinho might be thinking he could have held on to him in hindsight.
"There is something probably in Lampard, as much as he loves Chelsea, thinking that he wants to score as many goals as he can to make Chelsea regret their decision to let him go."
'Lampard can replace Yaya Toure'
BBC pundit Garth Crooks on Final Score: "In view of the fact that Yaya Toure is going to the Africa Cup of Nations, Frank should be kept at Manchester City. The irony is that with City three points behind Chelsea, what if Lampard provides the goals that rob his old club of the championship?
"I understand Jose Mourinho letting him go last season, but I'd never have expected Frank to reroute back to one of the Blues' biggest rivals.
"You cannot ignore someone of Frank's pedigree, particularly as Toure's off for a month in January. Manuel Pellegrini will want Lampard in his team, scoring goals."
'We must resolve this problem'
Pellegrini, it turns out, is doing what he can to make that happen.
"There have been no serious discussions, but we know exactly what we must do," he told Match of the Day.
"Frank wants to stay, we want to keep him. Now we must resolve the problem with New York City and MLS.
"He is very important. One of the reasons why he played today was because he has scored for me. Frank has been very useful for us in this moment."
Reaction to goal number 175
Former England winger Chris Waddle on BBC Radio 5 live: "Frank Lampard has been doing that for years, he always gets in the box. And there are not many of those midfielders left now, who always see an opportunity. Quality players always produce when you need them."
On his 175th Premier League goal, which takes him fourth on the all-time list alongside Thierry Henry, Lampard said: "I'm very happy with it, I thought it was going to be out of my reach. I have respect for Henry, he is one of the greatest in Premier League history and to be up there with him is incredible."


Social media reaction
Curtis Nickle on Facebook: "As a Chelsea fan I'm glad Lampard's off back to New York soon, because he's a great player and if he stays at City much longer he will win them the title."
Sampson Avinu on Facebook: "Jose Mourinho will regret the day he let Lampard go."
Brad Remus on Twitter: "Fact remains Lamps couldn't get into this Chelsea team. Salary was silly, too. Had to go. Now just knock it off with the goals!"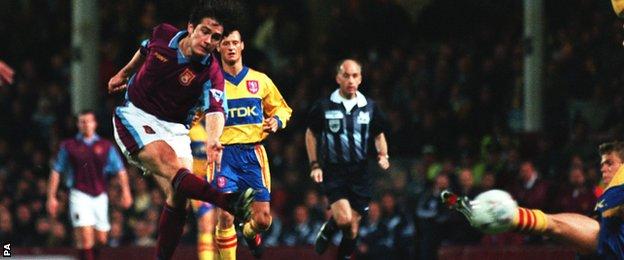 Andy on Twitter: "Frank Lampard just oozes quality. He is up there with Paul Scholes as England's best midfielder of the past 30 years. Light years ahead of Steven Gerrard."
Tom in North Wales on text: "I don't support Man City, but I do love football; and Frank Lampard, you sir, are amazing. Love it."
Chelsea Warrior on Twitter: "175 goals scored? Equal with Thierry Henry? A midfielder? Why did we let him go?"