Jose Mourinho backs Frank Lampard departure from Chelsea
Last updated on .From the section Football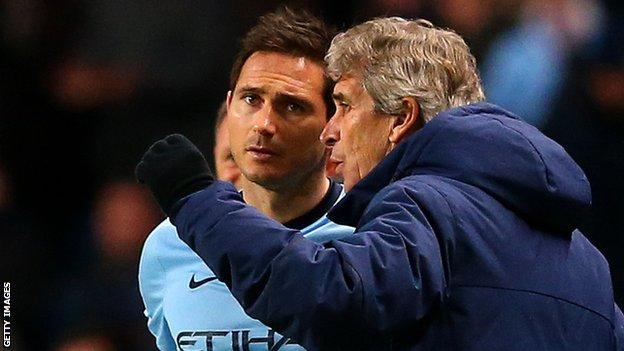 Chelsea boss Jose Mourinho says letting Frank Lampard go last summer was the right decision for the club's future.
Lampard, 36, initially joined MLS side New York City on a two-year deal before signing for sister club Manchester City on loan until the end of December.
City are battling Chelsea for the Premier League title and want to extend the impressive midfielder's loan deal.
"The project is to prepare for the next 10 years, not the next year - we made the right decision," Mourinho said.
Lampard left the London club after 13 years at Stamford Bridge in which he became the club's record goalscorer with 211 goals in his 649 appearances.
He has scored six times for City, including against Chelsea in September's 1-1 draw, with his latest goal coming in the 1-0 victory over Leicester City last Saturday.
Champions City are three points behind league leaders Chelsea with 36 points from 16 games.
Chelsea negated the loss of Lampard by signing Spain international Cesc Fabregas, while also bringing back former striker Didier Drogba, 36, and retaining 34-year-old centre-back John Terry.
"You can argue 'You have John Terry and Didier Drogba'. Different. Drogba is a striker that is coming to help and support the team," Mourinho said.
"John Terry is the best central defender in English football and it doesn't matter how old he is.
"The nucleus of the team has to be developed and to have a big player like Frank we would stop the development of the other guys."
Leading scorers in the Premier League

Player

Goals

Games

Clubs

Alan Shearer

260

441

Blackburn, Newcastle

Andy Cole

187

414

Newcastle, Manchester United, Blackburn, Fulham, Manchester City, Portsmouth

Wayne Rooney

178

385

Everton, Manchester United

Thierry Henry

175

258

Arsenal

Frank Lampard

175

588

West Ham, Chelsea, Manchester City

All stats correct as of 15/12/2014