Blackburn, Leeds and Nottingham Forest handed transfer embargoes
Last updated on .From the section Football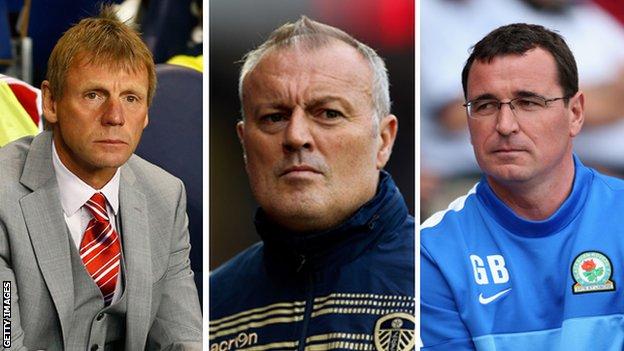 Blackburn, Leeds and Nottingham Forest have been given transfer embargoes for the rest of the season for breaching Financial Fair Play rules.
The Championship trio have been handed the bans for not meeting the Football League's Fair Play Requirement.
Under existing rules, clubs were permitted to lose no more than £3m a season, with a maximum of £5m of shareholder investment in 2013-14.
The clubs will have the opportunity to have the embargoes lifted in June.
To do so, they will need to prove they have stayed within an operating loss of no more than £3m, with a maximum of £3m of shareholder investment for the 2014-15 season.
Blackburn managing director Derek Shaw said: "Whilst the ruling will clearly present some difficulties, we will of course respect the rules of the Football League.
The view from Leeds
"Head coach Neil Redfearn said after Saturday's defeat by Fulham that the team needs more players with Championship experience and by my reckoning they should still be able to make four signings. The timing of the embargo coincides with owner Massimo Cellino submitting his appeal against his disqualification but with three big games between now and January and the team just five points above the relegation zone, Redfearn knows he cannot afford to allow this to interfere with the players' concentration."
BBC Radio Leeds sports reporter Adam Pope
"A lot of effort and hard work has been done to reduce player costs over the last two years, but we have wanted to rebuild and challenge in this division at the same time, and we will continue to do that."
Forest manager Stuart Pearce, speaking prior to confirmation that the club would be placed under an embargo, said: "We are acutely aware of what direction we will go if we are under an embargo. If you cannot go out and buy a player in the transfer market that is always a little bit hurtful.
"But the flip side is that if you have to be cute in the transfer market and get Bosmans and free transfers. We feel we have the scouting network that can cope with that.
"As a football supporter I would not want my club to go bust because of financial overspending, so if the League are putting plans in place to safeguard then long-term future of football clubs then fine; I have no problem with that at all."
The clubs will still be allowed to sign players in January if they have 24 or fewer players over the age of 21 who have made at least five starting appearances for the club in total.
Any of these signings must not cost the club a transfer fee and must cost less than £600,000 a year.
Existing Championship FFP rules
2014-15: Losses of no more than £3m, up to £6m with owner investment
2015-16: Losses of no more than £2m, up to £13m with owner investment
Clubs with 24 or more players fitting the criteria will be allowed to trade players on a 'one out, one in' basis.
In addition:
Clubs under an FFP embargo will be permitted to sign a goalkeeper on an emergency basis, in line with existing regulations.
Clubs under an FFP embargo will not be permitted to pay transfer fees or compensation fees for professional players.
Clubs under an FFP embargo will not be permitted to pay a loan fee to another club, they may only pay the player's wage, or a contribution towards it.
For incoming players, clubs can only pay agents' fees as a benefit in kind to the player in question, as long as they do not exceed the £600,000 employee costs limit.
In November, Championship clubs agreed to a new set of FFP guidelines to come into effect from the start of the 2016-17 campaign which will allow clubs to lose up to £15m across a period of three seasons without having to detail how that loss will be funded.