Gordon Strachan: Scotland to play Northern Ireland in March
Last updated on .From the section Football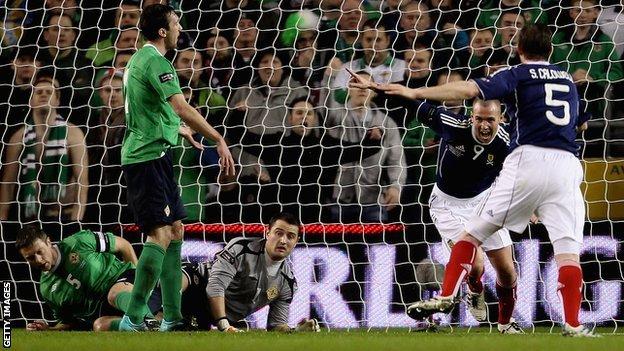 Scotland manager Gordon Strachan has said his side will face Northern Ireland in a friendly in March.
The two home nations are on Euro 2016 qualification duty at the end of that month, but have an available fixture date ahead of their competitive games.
Gordon Strachan's side host Gibraltar on Sunday, 29 March and Michael O'Neill's Northern Ireland welcome Finland on the same day.
"We will play Northern Ireland in a friendly in March," Strachan said.
The last time the sides met was at Dublin's Aviva Stadium in February 2011, the Scots winning 3-0 in the Carling Nations Cup.
Strachan had pre-empted an official announcement earlier on Monday when speaking to the media.
The Scotland manager also offered his thoughts on several other topics...
Strachan on Celtic's James Forrest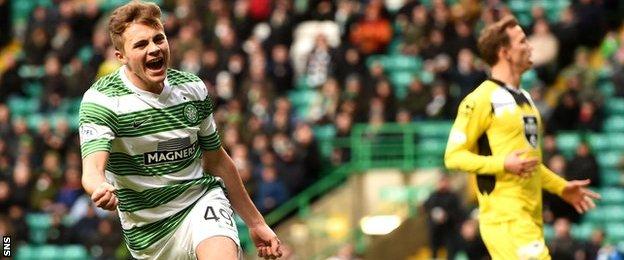 "It was great to see him," said Strachan, who watched the Celtic winger score one and set up another in the 4-1 win over St Mirren on Sunday after returning from injury.
"The way he eliminates people with his first touch, his change of pace - it's terrific.
"James will add to our squad. He's got to work back to fitness with Celtic and if he does well with them then he'll get involved with us again."
Forrest is not the only player to be catching the national coach's eye.
"It's quite exciting, it's nice to go and watch games and I see young Scottish players and think, 'I'd like to work with him, I'd like to see him'," Strachan added.
"I've got about 20 odd players to watch between now and March. There's a lot of kids I would like to watch a bit more."
Strachan on Celtic's Europa League draw
"It's a great tie facing Inter Milan and, when you sign for Celtic or become the Celtic manager, that's what you want - those nights when the place is full," said the 57-year-old, who twice led Celtic into the last 16 of the Champions League between 2005-2009.
"Ronny [Deila] is going to get that and I think that's why he wanted to sign for Celtic, and so did the players who have signed, they want the big nights.
"Celtic have earned that because it wasn't an easy section and they've got through. We all look forward to that game."
Strachan on Ally McCoist's resignation

"I feel for him because over the last two years he's been speaking about Rangers Football Club, the financial state of it, who's the chairman, who's not the chairman, and the only time you actually speak to him about football is when they get beat.
"I do feel for every football manager, but it's not going to change."
McCoist is working his 12-month notice period at Ibrox, with his compensation package thought to be a stumbling block to his exit from the cash-strapped club.
Strachan refused to take compensation when he left Middlesbrough after an ill-fated stint at the English Championship outfit.
"Whether it was £15 a week at Dundee or whatever I got at Middlesbrough or Celtic, I always felt I had earned my wage," he added, while stressing he did not know the details of McCoist's contract situation at Rangers.
"I just felt at Middlesbrough I didn't earn my wage, and I didn't feel it was right. That's why there was no compensation."