Manchester Utd: Ander Herrera named in match-fixing probe
Last updated on .From the section Football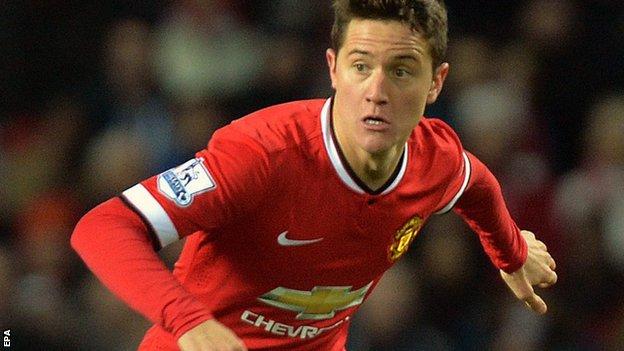 Manchester United midfielder Ander Herrera is one of 41 players, coaches and directors named in a match-fixing investigation in Spain.
Prosecutors allege almost one million euros was used to pay Levante players to lose their match against Zaragoza at the end of the 2010-11 season.
Swansea City winger Jefferson Montero is also among those named by prosecutor Alejandro Luzon.
The BBC has asked Herrera's agent for a response.
A Swansea spokesman said: "We have had no contact regarding this matter."
Prosecutor Luzon filed the case at a court in Valencia on Monday.
The court document alleges Herrera was one of 10 people who withdrew tens of thousands of euros funded by Zaragoza in order to pay bribes.
The 25-year-old left Zaragoza to join his home-town club Athletic Bilbao in August 2011, before signing for United in June 2014.
Montero, who joined Swansea from Mexican club Monarcas Morelia in July, was in the Levante side beaten 2-1 by Zaragoza on 21 May 2011.
It is alleged Levante's players were paid to lose the match, which Zaragoza needed to win to avoid relegation.
Montero's alleged involvement is not described in the prosecution case.
Also named in the document are the current Atletico Madrid captain Gabi and Zaragoza's former coach, Javier Aguirre - now manager of the Japan national side.