Fifa dismisses complaint from lawyer Michael Garcia over report
Last updated on .From the section Football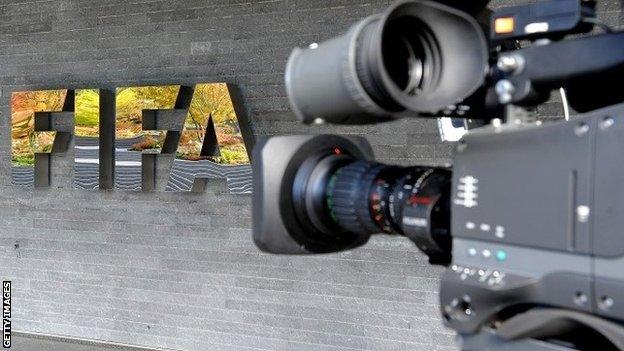 A complaint by the man who spent two years investigating World Cup corruption claims for Fifa has been dismissed by football's governing body.
US lawyer Michael Garcia's findings were released as a 42-page summary by Fifa-appointed independent judge Hans-Joachim Eckert.
Garcia said his summary was "incomplete and erroneous" and he appealed against it to Fifa's Appeal Committee.
However, it has now ruled that Garcia's complaint is "not admissible".
In a statement, Fifa said German Eckert's summary was "neither legally binding nor appealable".
Garcia was appointed by Fifa to lead the investigation into the bidding process for the 2018 and 2022 World Cups in Russia and Qatar following a series of damaging allegations.
A complaint by two whistleblowers who said their confidentiality was compromised after they gave evidence to Garcia's inquiry has also been dismissed by Fifa.
Phaedra Al Majid and Bonita Mersiades, who worked for the Qatari and Australian bid teams respectively, spoke to Fifa about alleged corruption on condition of anonymity.
They said they were "clearly identifiable" when Eckert's summary of Garcia's report was released.
But Fifa says there are "no grounds" for opening disciplinary proceedings.
"No names were mentioned in the statement and any information provided was of a general nature," a Fifa spokesman said.
"Thus, there was no divulgence of any information of a confidential nature.
"The chairman reviewed all provided material and stressed that, since the participants in the investigation had gone public with their own media activities long before the publication of the statement of the chairman of the adjudicatory chamber Judge Eckert, the breach of confidentiality claim had no substance."
Al Majid issued a statement in response in which she said the disciplinary committee's decision was "emblematic of Fifa's culture of self-protection".
There have been calls to release the full report in the wake of Garcia's complaint, but Fifa has said it cannot do so for legal reasons.
However, Fifa is meeting in Marrakech, Morocco, this week when it will vote on an amendment to its ethics code that could lead to an edited version of the full report being released.