Asian Cup: Hosts Australia asked to strengthen security
Last updated on .From the section Football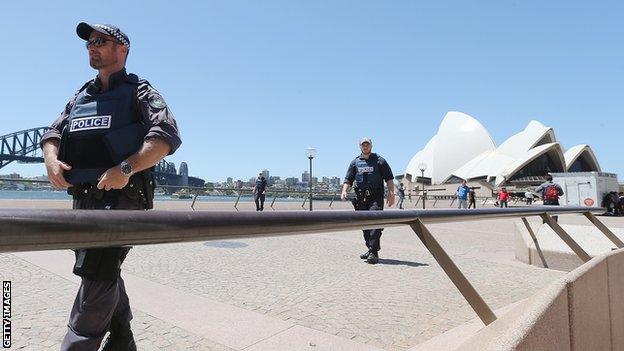 Australia has been asked to strengthen security for next month's Asian Cup following the hostage siege in Sydney.
The Asian Football Confederation is worried about safety plans in the wake of Monday's events in a cafe that left two hostages and their captor dead.
"Thousands of media and fans will be travelling to Australia for the competition," said AFC general secretary Alex Soosay.
"Their security is our utmost priority."
Soosay continued: "We have asked [Australia's local organising committee] to provide extra security in team and AFC hotels, as well as police escorts for all official activities, in addition to an increase in security across all venues."
The Asian Cup is the continent's biggest football tournament and features 16 teams from across the region, including Iran, Iraq, Saudi Arabia, Qatar, Palestine, China, Japan, South Korea and North Korea.
The event will be held in Australia for the first time from 9-31 January 2015.
"Australia has successfully hosted many prestigious events in the past but the recent developments cannot be taken lightly," added Soosay.
"I would like to assure the teams, fans and the media that ALOC will do whatever necessary to provide the best security cover around the competition and everyone will enjoy the best-ever AFC Asian Cup."
Australia will also host the cricket World Cup during February and March, and the country's Test team is currently playing a series against India, whose players have already been given extra protection.
A Cricket Australia spokesman said: "The safety of players, officials and fans is our highest priority.
"We are in constant contact with the relevant authorities to ensure we have the most appropriate security measures in place at all matches."