New York City: Frank Lampard 'key' to Man City sister club
Stuart Pollitt and Nathan Middleton
BBC North West Tonight and BBC Sport
Last updated on .From the section Football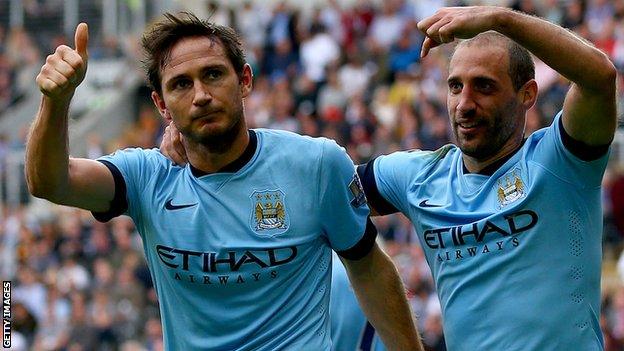 Frank Lampard is in the middle of an intriguing problem that could provide a huge setback for one of Major League Soccer's newest clubs, New York City FC, before they even play a competitive match.
The 36-year-old, along with former Barcelona, Atletico Madrid and Spain striker David Villa, 33, are the two headline signings for the club's inaugural 2015 MLS season, beginning in March.
Lampard is currently on loan at Premier League champions Manchester City, the club whose Abu Dhabi United Group owners also own New York City, having co-formed the franchise with the New York Yankees baseball team.
The midfielder is due to start pre-season training with his new club ahead of their first season in MLS.
But after six goals in 14 appearances, City boss Manuel Pellegrini is keen to extend his loan deal beyond January.
BBC North West Tonight examines why his move to the United States is so important and how New York City can become successful Stateside.
Lampard 'fills stadiums'
"For him to have any kind of delay in joining Major League Soccer from the beginning, the initiation of this club, would be a disastrous proposition," said Dave Martinez, a New York-based football writer for empireofsoccer.com.
"It's going to be an interesting tug of war and I think that will define how the City football group operates."
Lampard agreed his move to New York following his release by Chelsea at the end of last season, but decided to move to the Etihad for five months to fill the void before the MLS season starts.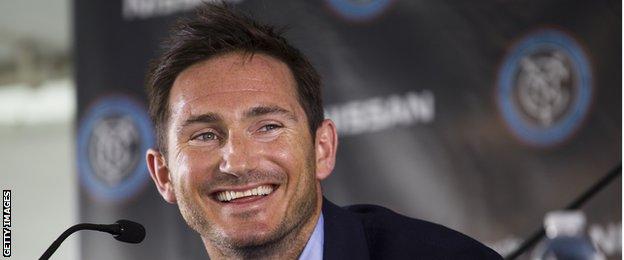 With his impressive form a key feature behind the Premier League side's eight wins in a row, Pellegrini wants to keep the former England midfielder. But will the club's owners be a factor in him staying?
With City now just three points behind Chelsea in the Premier League, and into the knockout stages of the Champions League, his experience could be vital.
"You don't want to be a satellite club," added Martinez. "Lampard is perhaps the crowning jewel of this organisation already.
"When Chelsea came to play, he filled up the stadium and it was definitely Lampard fans."
City in New York
The window of a large Times Square sports store illustrates just what New York City FC is up against.
Nestled away in the corner of the display, behind a dozen Yankees tops, six basketball tops emblazoned with New York Knicks writing and some gear from City's soon-to-be MLS rivals, New York Red Bulls, is a sole New York City strip.
A sign this club is making an impact in the Big Apple. But also a sign that there is a long way to go.
Man City announced their intention to form a MLS franchise with baseball giants Yankees in May 2013, and City's Abu Dhabi owners have since taken stakes in Australian side Melbourne Heart and Japan's Yokohama F Marinos.
The new franchise, the 20th in the MLS, will be the first in the city itself but the third in the metropolitan area.
The New York Competition

New York Red Bulls
Football
New York Cosmos

New York Yankees

Baseball

New York Mets

Brooklyn Nets
Basketball
New York Knicks

New York Giants

American Football

New York Jets

New Jersey Devils
Ice Hockey
New York Islanders
New York Rangers
MLS side New York Red Bulls are based in Harrison, New Jersey, while New York Cosmos, who currently play in the North American Soccer League but have stated their intention to get into the MLS, are located in Hempstead.
"Coming to New York, which many people say is the capital of the world in terms of PR and media, is a sensational move," said former Manchester City captain Rodney Marsh.
"The only thing I would throw in as a question is can New York, I know it is a big town, support three professional soccer teams?
"I'm not sure that it can."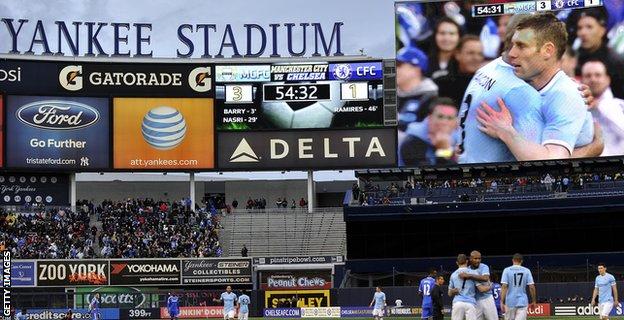 New York City will, for now, play their home games at one of the most iconic sport venues in the world, the 50,291-capacity Yankee Stadium.
But the club needs a permanent home. Their first choice near Flushing Meadows in Queens has already stalled after opposition from residents.
Opponents sought to highlight Abu Dhabi's human rights record as part of their campaign - unwanted publicity for City owner Sheikh Mansour.
The Plan B is a 28,000-capacity ground next to Yankee Stadium but building any sports ground in New York is a long and complicated process.
Abu Dhabi owned City Football Group has deep pockets. It may need them to build a suitable stadium and a viable football team in the Big Apple.
As well as a proper home, Martinez believes the club will have to fully integrate themselves into the culture of the city to make sure they are a success.
"It has to be New York city identity," he added. "This town is too proud to take on somebody else's identity, put on somebody else's shirt and colours, and just plaster the name of New York on it.
"If they're able to make that connection at a grassroots level with fans, politicians and anybody who is interested in this project, it can be a success, but we're a long way from there still."
Soccer in the US
The 2014 World Cup was seen by many as a watershed moment for soccer in the United States.
Tim Howard's record breaking 15 saves in this summer's World Cup second-round defeat by Belgium, President Barack Obama watching a game on Air Force One and huge television audiences for the United States games - last summer in Brazil appeared to be the time that soccer finally began gaining ground on American football, basketball and baseball.
"If you look at the sport as a whole in this country, women's football is just off the radar, it's just brilliant," added Marsh, 70, who spent four years at Manchester City between 1972 and 1976.
"Whether or not it can become a major sport like the other North American sports, I don't think anybody really knows the answer to that question."
Jurgen Klinsmann's US side made it through a difficult group and were beaten 2-1 by Belgium in extra time, but there are many who believe the US can go on and make a huge impact on world football.
"There is a burgeoning group of international fans in the city that pack bars every Saturday morning," added Martinez. "Watching the Premier League and La Liga, taking on and embracing football - we saw in the World Cup as well.
"I think New York City's main task will be to cultivate new fans in the area. There are definitely fans out there who are cultured towards the world game but not the domestic league, and that's the leap they have to make.
"There is an innate love for the sport of football, the sport of soccer - getting that love to translate to the domestic game is the challenge they have."