Fifa: Michael Garcia urged not to quit over World Cup row
Last updated on .From the section Football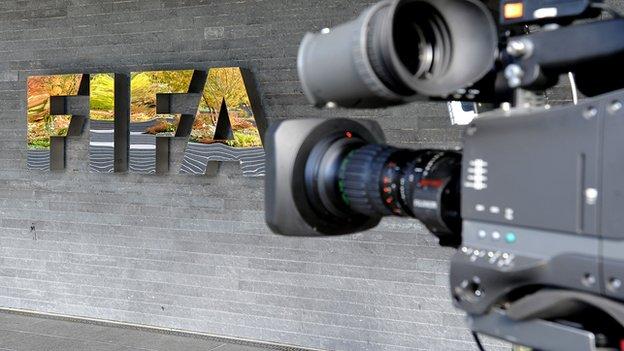 Fifa's independent ethics investigator Michael Garcia has been urged not to quit - despite the continued fallout from his World Cup bidding report.
Former Fifa advisor Michael Hershman has "pleaded" with Garcia not to resign from world football's governing body.
Garcia's report findings were released as a 42-page summary by Fifa-appointed independent judge Hans-Joachim Eckert.
Garcia said the summary was "erroneous" and complained to Fifa, but it said his appeal was "not admissible".
American lawyer Garcia was appointed by Fifa to lead the investigation into the bidding process for the 2018 and 2022 World Cups in Russia and Qatar respectively following a series of damaging allegations.
A summary of that report cleared the Russia 2018 and Qatar 2022 World Cup bids of corruption.
Hershman described Garcia as one of "very, very few independent voices" within Fifa and that he believed Eckert had "made mistakes" in publishing Garcia's summary.
"I'm very, very hopeful that Michael will stay on and will continue to push for a complete reform of Fifa's compliance and governance procedures," he told BBC Sport.
Hershman added Eckert was "a man of integrity" but believes serious questions need to be asked of the German's professionalism. He added: "I suspect that if Judge Eckert had a chance to do it over again he would have done it differently.
"In my judgement frankly it is not a very professional message of summarising the report that Michael Garcia put forth."
Fifa meet in Morocco later this week and will decide whether to release a full, redacted copy of Garcia's 430-page report. Hershman believes Fifa should approve the proposal so the organisation doesn't look "foolish".
Hershman was a member of Fifa's Independent Governance Committee, a panel introduced by president Sepp Blatter in 2011 to advise the organisation on reforms after a series of financial and vote-buying allegations.
Four years of controversy
2 December 2010
- Russia and Qatar are chosen to host the 2018 and 2022 World Cup.
4 October 2013
- Fifa agrees to set up a taskforce to look into alternative dates for the 2022 World Cup in Qatar
1 June 2014
- The Sunday Times alleges that former Fifa vice-president, Mohamed bin Hammam, paid £3m to football officials in return for support for the Qatari bid
5 September 2014
- The report into the 2018 and 2022 World Cup bidding process is submitted to Fifa by Michael Garcia
13 November 2014
- Fifa release a 42-page summary of the Garcia report which clears Russia and Qatar of corruption
13 November 2014
- Garcia claims the summary of his own report is "materially incomplete" and contains "erroneous representations"
20 November 2014
- Garcia and Fifa ethics judge Hans-Joachim Eckert agree to release the full copy of the report to the organisation's compliance chief, Domenico Scala