Ally McCoist remains Rangers manager after meeting
Last updated on .From the section Rangers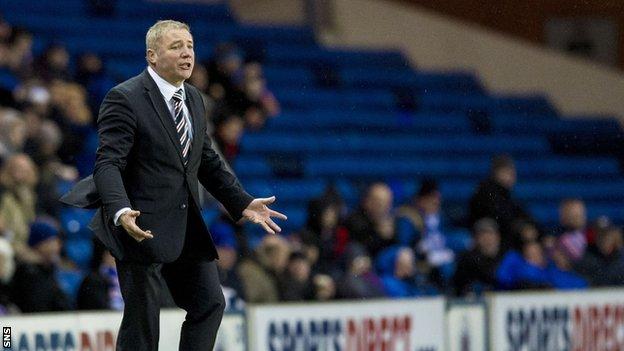 Ally McCoist will remain Rangers manager following a meeting with board members despite handing in his notice on Thursday.
The 52-year-old, whose side sit second in the Scottish Championship, will still be in charge of the team against Livingston on Saturday.
But Rangers have refused to be drawn on what will happen thereafter.
After McCoist told the club of his intentions, they said on Monday that
His annual salary reverted to £750,000 after it had been cut.
McCoist was called to a Wednesday meeting with the chairman of the club's football board, Sandy Easdale, and director Derek Llambias.
And Easdale, who was heckled by a supporter as he arrived at Ibrox stadium for the meeting, afterwards refused to comment on the possibility of a settlement or what would happen beyond the match against Livingston.
"Ally's here and we're looking forward to Saturday to the game," he said when questioned by BBC Scotland.
McCoist took over from Walter Smith in 2011 when Rangers were in the Scottish Premier League, but his period in charge has coincided with the club's financial collapse.
Administration and subsequent liquidation of the former company that ran the club resulted in Rangers playing in the fourth tier of Scottish football.
The club's all-time top goalscorer has led the team to two consecutive promotions, but this season Rangers trail Championship leaders Hearts by nine points as they chase promotion to the Scottish Premiership.
Craig Houston, from the Sons of Struth supporters group, was shocked by the outcome of the meeting.
"It seemed that he handed in his notice and there was going to be some negotiations done today. Everyone was under the impression that it would be on his package to terminate his employment," he told BBC Scotland.
"I am a bit surprised that it was not the outcome today and hopefully we'll hear more from the club to firm that up."
McCoist received strong criticism on social media in particular before he handed in his notice.
"It would appear that Ally resigned purely on a stance of principle because he took his wage reduction on the basis that it would protect jobs and that doesn't appear to be the case," Houston said, pointing to recent redundancies.
"That's been accepted by a lot of Rangers supporters."
Houston believes the uncertainty will affect team performances but thinks question marks over the club's financial future is more important.
"Should McCoist be here for 12 months it would be a very strange situation and I don't know how it would be possible," he said.
"My own personal opinion is that there are more important issues at the club right now, so I would rather it was sorted one way or another."