Celtic's backing of Aleksandar Tonev defies legal logic

By Tom English
BBC Scotland
Last updated on .From the section Football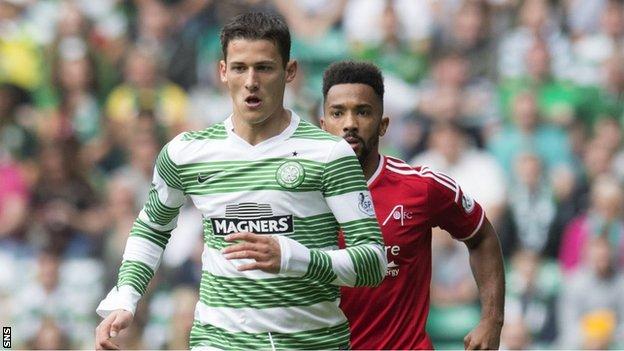 From the first moment he was asked about it, of the charge of racism levelled at him by the Scottish Football Association.
Deila spoke with the certainty of a man in possession of the absolute truth in all of this. In the business of what his man Tonev was alleged to have said to Shay Logan of Aberdeen, Tonev was innocent and that was that.
"I know he didn't do it," said the manager."I trust my players and he hasn't said it."
There was no ambiguity, no doubt of any kind.
This confidence didn't begin and end at the manager's door. Scott Brown was equally certain that Tonev had not racially abused Logan. Unshakably so.
"We know he didn't say it - that's the main thing," remarked the Celtic captain. "We know he doesn't come in and lie."
BBC Scotland's Tom English
"The panel hand down their verdict based on the balance of probability rather than beyond all reasonable doubt, the requirement in a criminal case."
Had Deila and Brown gathered and studied all the relevant statements before coming to their conclusion? No. In their pursuit of truth, had they sat with Logan - who sent out an inflammatory and ill-advised tweet about this whole affair on Tuesday night -and cross-examined him about what went down? No.
Their supreme confidence in his innocence was based solely on Tonev's word.
"I didn't say it."
"That's good enough for us."
Celtic wholly accepted - and still accept - one man's word over another - Tonev's. Now they are criticising the judicial panel's appellate tribunal for doing the same.
There is a difference, of course. Celtic are not exactly neutrals in this whereas the judicial panel most certainly is. It is a properly independent body, chaired by a legal heavyweight with no connection to Hampden.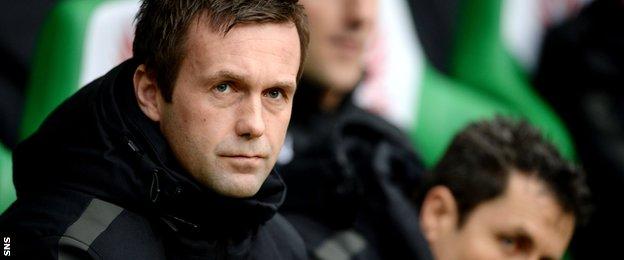 When the verdict of the original tribunal - a seven-match ban for Tonev - some Celtic fans raged on social media about a "kangaroo court" doling out an unjust sentence with zero evidence.
Let's be clear about this. The "kangaroo court" was chaired by Lord Bonomy, a former Senator of the College of Justice, a judge of the Supreme Courts of Scotland, Senior Counsel to the Dunblane Inquiry and a former judge at the International Criminal Tribunal for the former Yugoslavia, a position he was appointed to by the former Secretary-General of the United Nations, Kofi Annan.
He presided over the trial of Milan Milutinovic, the former Serbian president and was involved in preparations for the trial of Radovan Karadzic, the Bosnian Serb leader. In determining the rights and wrongs of the Tonev case, who are we to put our faith in - Bonomy or Broonie? A man who has been an advocate for more than 40 years or the legal Goliaths that are Deila and Brown?
There are those who think it hideously unfair that Tonev could be found guilty despite the fact that nobody bar Logan heard him use the offending language. How could he be tarnished for life when there's no corroboration, no independent testimony?
The reason is that the panel hand down their verdict based on the balance of probability rather than beyond all reasonable doubt, the requirement in a criminal case.
All Scottish clubs signed up for balance of probability, including Celtic. Since the system has been in place there has not been one complaint or comment from any club in the land about balance of probability being an unfair way of deciding such cases.
Celtic's legal team, through their solicitor advocate Liam O'Donnell, accepted at the outset that the tribunal would be entitled to uphold the complaint against Tonev solely on Logan's evidence. This, after all, is what Celtic were on board with. They're objecting to it now, but it's too late.
- the hearing lasted seven hours in late October - and now Lord Bonomy could scarcely have been clearer in outlining the reasons for the decision.
There is no requirement for corroboration. There must just be a satisfaction that it is more likely than not that the offence happened, that based on the evidence in the hearing the commonsense verdict, on the balance of probabilities, was that racist language was used.
Tonev had given "an inherently improbable account" of what had gone on that day. The panel was "unable to accept him as either credible or reliable." He was found to be "guarded" and "hesitant" while Logan gave "cogent" evidence. His testimony, it was decided, was "careful", "measured", "clear" and "unequivocal."
Celtic's case, on appeal, was dismissed. They came to the table fighting on numerous fronts. They said Tonev didn't get a fair hearing and that the tribunal issued a determination that they could not possibly have reached based on the facts. Bonomy blew those points away.
They said the seven-match suspension was excessive. Bonomy pointed out that original suspension was nine matches but it was reduced to seven on account of, among other things, Tonev's good past record as a professional footballer.
Richard Keen QC, representing Tonev, tried to argue that the tribunal had failed to consider how the weather conditions may have affected Logan's ability to hear what was said. This was given short shrift.
Celtic issued a statement in the wake of the verdict, still stating that no player should be found guilty of "such a grave offence on the basis of the evidence presented in this case." In this regard, they're trying to teach an internationally respected legal mind how to do his job.
What will the club do next? There's no chance of them doing a U-turn and accepting the verdict and apologising for Tonev's behaviour. It, therefore, seems unlikely that they will terminate their association with the player. They will talk to the SFA with the hope of changing the standard of proof in these cases - from balance of probability to something else.
They'll need the support of upwards of 75% of the clubs in Scotland to bring about change, however. That's one for the AGM, perhaps.
In the meantime, there is a player in Aberdeen who was has been found to have been racially abused and a club in Glasgow who believe he wasn't.
Celtic are sticking to the original position. In their defence of Tonev, they have become a law unto themselves.