Neil Taylor: Christmas form will be key to Swansea's season
Last updated on .From the section Swansea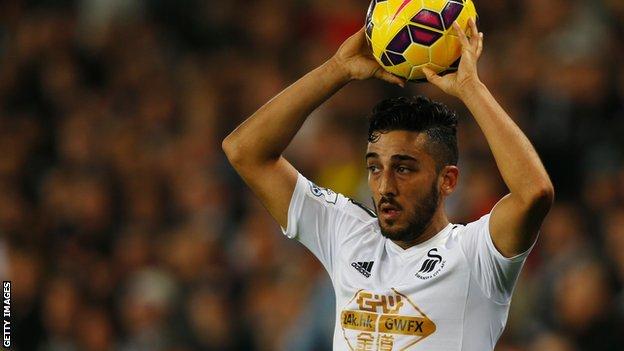 Neil Taylor is hoping a good Christmas period can spur Swansea City to a strong second half of the season in the Premier League.
The Wales full-back, 25, knows results in upcoming games can play a big part in shaping the rest of their campaign.
Taylor hopes Swansea can embark on a good run of form, starting at Hull.
"You want a Christmas period to be good, that's the key for your season and I think that we can do well." he said.
"We've got Hull and Villa and I think they're two games we'll aim to get wins against."
Hull go into Saturday's game against ninth-placed Swansea having not won a Premier League match since their 2-0 win over Crystal Palace on 4 October.
But Taylor says the Swans - who have lost their last two league matches - will not be underestimating Steve Bruce's side at the KC Stadium, where they lost 1-0 in the corresponding fixture last season.
"They're physical, they're tough and Steve Bruce's teams always look to bounce back," Taylor added.
"They'll see it as a game where they want to pick up points as well after having a couple of tough games."
Taylor expects team-mate Jefferson Montero, who arrived at the Liberty Stadium from Mexican club Monarcas Morelia in July, will be closely marked in all their upcoming games following a string of impressive displays.
"It shows how Tottenham decided to play Kyle Walker knowing that he's a player that's a threat for us," Taylor said.
"I know more or less what he's going to do but other teams will do their analysis as well.
"They'll know his strengths and teams are starting to double up on him so he'll have to find different ways of dealing with that."
St Asaph-born Taylor is hoping that as he gains a better understanding with Montero, who has been named in a match fixing probe by the Spanish FA, they can help the Swans create more chances.
"I think he's been doing great and the only way to build up relationships with wingers is to play with them over and over again and I think we're getting there.
"He's quick with the ball but he's very good at stopping and making you go again. And that's his key when he tries to get away from people"
"We want to create more goals from down our side and hopefully we can do that."