Fifa hits new low after Michael Garcia resignation

By Dan Roan
BBC sports editor
Last updated on .From the section Football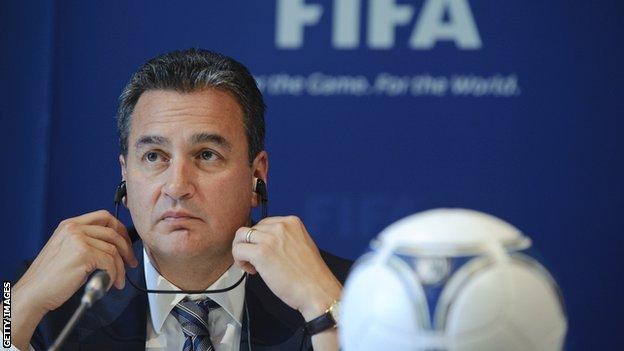 As the sun set over the Atlas Mountains, and the sound of the evening call to prayer drifted across the city, all seemed calm.
At Marrakech's finest hotel, La Mamounia, famous for being Winston Churchill's favourite bolt hole, Fifa's top executives - the select few who run world football - were checking in ahead of their final meeting of the year.
Uefa president Michel Platini, looking relaxed in a garish grey and yellow tracksuit, chatted quietly to an associate as they sat in loungers on the terrace. Jordanian Prince Ali and his wife walked quietly through the manicured gardens. US football chief Sunil Gulati politely deflected questions from journalists who hung around the lobby in the vain hope of a quick word with president Sepp Blatter.
And then it happened. From far away across the Atlantic, another senior Fifa figure was checking out. And here, amid the overwhelming chaos of the Marrakech souks, world football's governing body would once again be thrown into turmoil.
The resignation of New York-based Michael Garcia - the former US attorney who led Fifa's investigation into allegations of corruption around the bidding for the next two World Cups, is another humiliation for the organisation.
Garcia did not just quit - he called into question the entire integrity, leadership and culture of Fifa. He was the organisation's lead investigator. Its ethics committee chairman. The man hired to clean up a toxic, discredited body after years of scandal.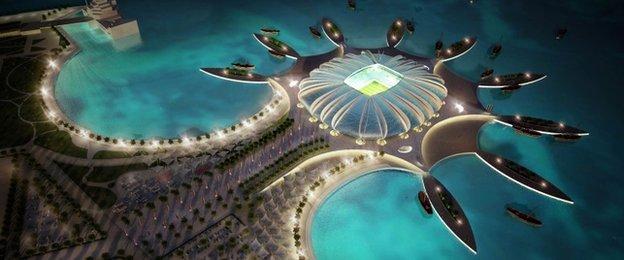 Instead, he reached the end of his tether and walked away in disgust. Garcia, we learnt, had even been reported to Fifa's disciplinary committee for publicly suggesting that the 430-page report of his findings be published.
What does this now say about Fifa's ability and willingness to police itself? About its commitment to transparency? Its determination to root out corruption? Its suitability to run the world game? Its leadership under Blatter?
In La Mamounia's resplendent lobby, the likes of Platini and Ali spoke of their shock, talking in hushed tones to advisers about how best to respond to requests for interviews from reporters. Blatter, meanwhile, issued a statement expressing his surprise.
But in truth of course, it would have been more of a surprise if Garcia had stayed. This week, as Fifa began its end-of-year desk clearing, the American lawyer's appeal against a 42-page summary of his investigation was predictably and unceremoniously dismissed. It left his position untenable.
"My job is to punish people who do bad things"
Appointed by President Bush, married to an FBI agent and barred from entering Russia - BBC News profiles American lawyer Michael Garcia, the man behind the Fifa corruption report.
Read the full profile
But Garcia had, in effect, all but resigned weeks ago, when he first demanded more transparency from Fifa, and then accused German judge Hans-Joachim Eckert, his fellow-ethics committee chairman, of misrepresenting his findings in that summary.
Eckert cleared Russia and Qatar as World Cup hosts, and Fifa declared "closure" - but Garcia then broke ranks, and now there is anything but.
Now he has gone, expect Blatter, when he holds a news conference here on Friday, to question Garcia's motives. The US lawyer, we may be reminded, was aware of the Fifa rules that prevent full disclosure of such investigations. He and his company were happy to accept millions of dollars' worth of fees.
Only when he needed to distance himself from Fifa for his own sake, it may be suggested, did Garcia protest. This was self-preservation, not principle, we'll be told.
Others however, will see it very differently. And wonder whether Fifa is now broken beyond repair and ask how convenient it is that the man currently investigating three Fifa executives has departed.
Meanwhile, the Club World Cup continues here in Morocco, football's annual search to find the best club team in the world.
The Galacticos of Real Madrid are in town. So too thousands of fans of South American champions San Lorenzo. But instead of the focus being on them, and the sport, it remains on the game's so-called leaders.
Garcia's resignation should do decisive damage to Fifa's reputation. It should encourage those who want the Serious Fraud Office to act, those who want the sponsors to walk away, and those who want Blatter to go.
But there comes a point in this saga when Fifa's image cannot sink any lower. When observers and critics become numb to it all.
And Fifa of course has become an expert in riding out such crises in the past - in blaming such turbulence on a British media with an axe to grind, and on wearing the critics down with process and rules that become harder and harder to follow.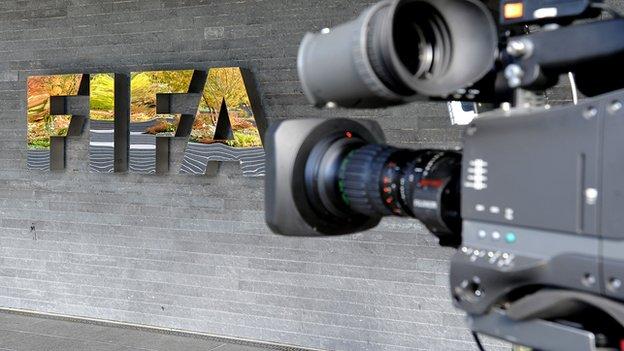 Garcia's resignation could make Friday's vote on whether to publish a redacted version of his report a closer contest than previously thought. And the full 430-page dossier could end up being leaked of course. But, even then, nothing is likely to happen.
Garcia's investigatory powers, let's remember, were limited. He could not speak to everyone he wanted to. Some bids co-operated more than others.
We still don't know what exactly was in Garcia's report. Some day we will. But don't necessarily expect it to contain the smoking gun that would have forced a revote.
The process that decided the hosts of the next two World Cups cannot be any more discredited than it currently is. If the World Cup was going to be taken away from Russia or Qatar it would surely have already happened by now.
Yes, Fifa remains in crisis. Yes, the World Cup has been tainted. But this is Fifa. And the more things seem to change, the more things really stay the same.
I don't blame you all for having a serious bout of "Fifa fatigue" this Christmas. But that, perhaps, is what Blatter wants. As he heads - despite everything - towards another re-election in May.
Four years of controversy
2 December 2010 -
Russia and Qatar are chosen to host the 2018 and 2022 World Cups
4 October 2013 -
Fifa agrees to set up a taskforce to look into alternative dates for the 2022 World Cup in Qatar
1 June 2014 -
The Sunday Times alleges that former Fifa vice-president Mohamed bin Hammam paid £3m to football officials in return for support for the Qatari bid
5 September 2014 -
The report into the 2018 and 2022 World Cup bidding process is submitted to Fifa by Michael Garcia
13 November 2014 -
Fifa releases a 42-page summary of the Garcia report which clears Russia and Qatar of corruption
13 November 2014 -
Garcia claims the summary of his own report is "materially incomplete" and contains "erroneous representations"
20 November 2014 -
Garcia and Fifa ethics judge Hans-Joachim Eckert agree to release the full copy of the report to the organisation's compliance chief, Domenico Scala
16 December 2014 -
Fifa deems Garcia's complaint against Eckert's summary of his report is "not admissible"
17 December 2014 -
Garcia quits his role as independent chairman of the Fifa Ethics Committee's Investigatory Chamber