Sunderland boss Gus Poyet: Don't call me the manager
Last updated on .From the section Football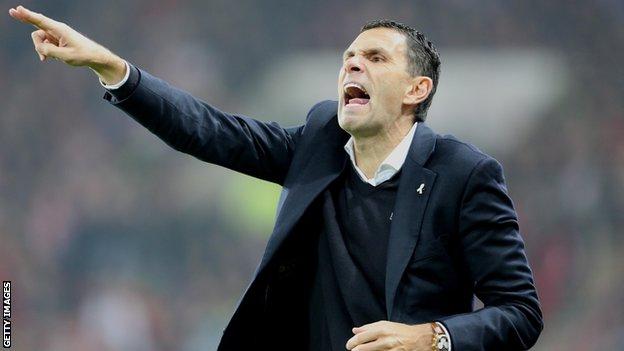 Sunderland boss Gus Poyet has insisted he is a head coach and not a manager in an apparent criticism of the club's transfer dealings.
The Uruguayan has vented his frustration about a lack of quality at the club, who lie 15th in the Premier League table.
"I am a head coach," Poyet told reporters.
"I am not going to be a head coach when it suits and a manager when it doesn't. That side is down to recruitment."
The Black Cats ensured Barclays Premier League survival with a late surge last season and looked to strengthen in the summer as they made seven signings, including Jack Rodwell, Jordi Gomez and Ricky Alvarez.
But this term they are without a win in six games and have just one victory since an 8-0 drubbing at Southampton in October.
With the January transfer window approaching, Poyet has made it clear he wishes to strengthen his ranks, although he has suggested that he will have little to do with the process, with sporting director Lee Congerton leading a continental scouting system on Wearside.
"I want more quality. Do I think I'll get it? I don't know," said Poyet.
"You know what is missing. It is clear what we need to do. That is down to recruitment.
"So, if you ever get the chance to speak to anyone on the recruitment side and ask them about it, you are lucky. If you don't, don't ask me."
Poyet's predecessor, Paolo Di Canio, claimed he had not signed any of the 14 players the club acquired in the summer of 2013 when he was in charge.
However, those claims were denied by former director of football Roberto De Fanti.
"Paolo had the final decision on every player," he told BBC Sport. "He always blames everybody else but himself."