Danny Wilson: Barnsley boss reaches career milestone
Last updated on .From the section Football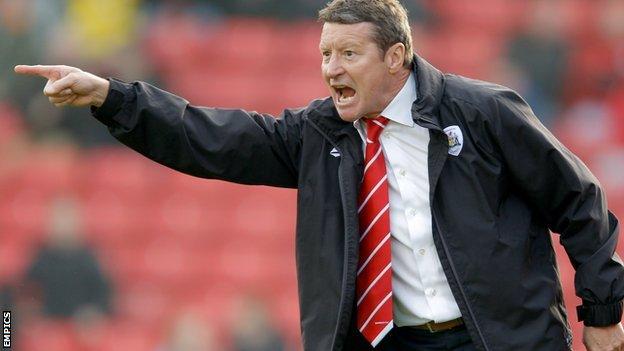 Barnsley boss Danny Wilson says the achievement of reaching 1,000 games in management will become rarer in future.
The 54-year-old, who started managing with the Tykes in 1994, will lead a team for the 1,000th time in Saturday's League One game against Leyton Orient.
"The word patience is long gone," the former Northern Ireland international told BBC Radio Sheffield.
"It's a results and financial driven industry these days, so I don't think it'll happen too often from now on."
999 not out

Club

Period

Barnsley

June 1994 - July 1998

Sheffield Wednesday

July 1998 - March 2000

Bristol City

June 2000 - June 2004

MK Dons

December 2004 - June 2006

Hartlepool

June 2006 - December 2008

Swindon Town

December 2008 - March 2011

Sheffield United

May 2011 - April 2013

Barnsley

December 2013 - present
He continued: "There's a few managers in the seven and eight hundreds and I hope they reach 1,000, but after them I think you'll find it will be very few and far between.
"If things are not going well, the first port of call is to change the manager, whether that is the right decision or not."
Of the 72 Football League teams, 22 now have a different manager to the one with whom they began the season.
Wilson, now in his second spell at Oakwell, is the 24th manager in English football to reach the milestone.
He guided the South Yorkshire side to the top flight for the first time in their history in 1997 before moving on to Sheffield Wednesday at the end of the following season.
The former Chesterfield, Brighton and Luton midfielder then went on to manage at Bristol City, MK Dons, Hartlepool, Swindon and Sheffield United.
Will Wilson be the last one?
"He joins some illustrious names in an exclusive list that includes managers such as Sir Matt Busby, Sir Alex Ferguson and Brian Clough.
"It also raises the question how many more will join the '1,000 club'?
"The managerial world has always been a precarious vocation, but in the current climate it's hard to see many more matching the same levels of longevity.
"The average tenure for a dismissed manager this season is a staggering eight months and over 50% of those first-team managers will never get another management job in the professional game."
BBC Radio 5 live's Ian Dennis
"Everybody will expect me to say that getting Barnsley promoted was my high point and it was terrific, but I have had some great times at clubs," he said.
"It's a great privilege to be here from my point of view and it does seem to have come around very quickly.
"I have had great support and trust over a period of time and for that I am eternally grateful."
In over 20 years in management, the longest he has spent out of the game is the eight months between leaving Sheffield United in April 2013 and re-joining Barnsley last December.
And Wilson has no intention of leaving the game in the near future.
"The drive and the ambition is still there and it is burning very, very brightly at the moment," he added.
"There are lots of low points in any career you have and what you have to do is move on and try and make sure they don't happen again.
"I'll be the first to say when I have lost the appetite and I not really bothered anymore, but it is quite the opposite right now."