St Mirren hope fan zone heralds alcohol ban changes in Scotland
By John Barnes
BBC Scotland
Last updated on .From the section Football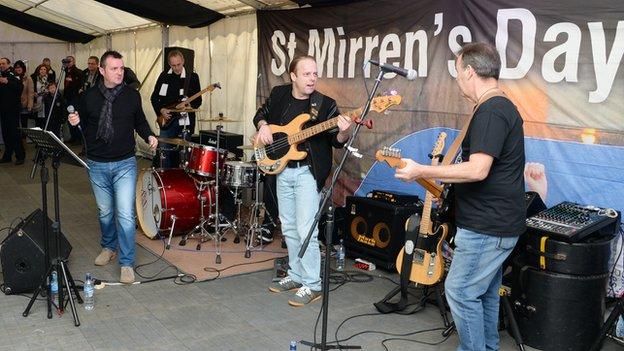 St Mirren hope a new initiative at Saturday's game against Motherwell will herald a return for the public sale of alcohol at Scottish football grounds.
But St Mirren's Fan Council has set up "fan zone" marquee in their car park ahead of Saturday's game.
St Mirren's Brian Caldwell said: "There is certainly an argument now that Scottish clubs should be able to sell alcohol back in stadiums again."
Alcohol can be consumed at Scottish grounds in corporate areas but not sold to the general public.
St Mirren chief executive Brian Caldwell
"You have modern stadiums like our own - the newest in Scottish football - and it's a safer environment supporters are coming to now"
The Scottish FA has held fresh talks with the Scottish government and Police Scotland about the restrictions that have been in place since 1980.
But police have told Scottish football's governing body that they will not support any relaxation unless a nationwide public consultation proves its benefits.
St Mirren think their initiative at the Paisley ground might help ease public fears.
"I think we need to pilot it and I would be delighted to pilot it at St Mirren Stadium," chief executive Caldwell told BBC Scotland.
"You have modern stadiums like our own - the newest in Scottish football - and it's a safer environment supporters are coming to now and there's an income stream there that clubs could potentially get that they're missing out on compared to clubs in England.
"People are going for a drink before the game and walking to the stadium and there's as much chance of a flashpoint there as you have in a segregated area within the stadium itself.
"I understand the reasons for the way it has been over the years, but I think that, with the modern stadia we've got in Scottish football, now's the time to change."
Alan Wardrop, chairman of St Mirren's Fans Council, said their fan zone idea was to allow their supporters to celebrate Christmas together.

"We're having a Christmas party to begin with," he said. "There's no facilities in the club for ordinary supporters to get together and have a drink and maybe offer some entertainment for children and create a family environment before and after the game.
"There have been suggestions on fans forums that it's a beer tent, but it's nothing like a beer tent.
"There's alcohol for sale, yes absolutely, but we've got Playstations for the kids to play on, we've got a hot dog and burger bar and we've got a live band playing."
Wardrop hopes the fan zone will also help raise money for the club and could become a regular event.
"We're trying to let the club earn what they can through the bar and other facilities," he added. "Every profit in this goes to the club."
The first fan zone is restricted to home fans, but Wardrop hopes away supporters will be able to participate in the future.