Indian Super League infrastructure near non-existent - David James
Last updated on .From the section Football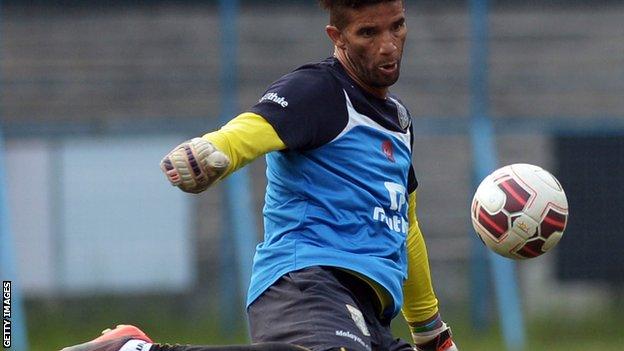 Former England goalkeeper David James has criticised the Indian Super League (ISL) as his Kerala Blasters side prepare for Saturday's inaugural final.
The Blasters' player-coach, 44, says the ISL has "massive potential" but the infrastructure is "near non-existent".
He added: "Four, maybe five sides, were playing on cricket pitches. The coaching is another issue."
James, whose club face Atletico de Kolkata in Mumbai, also questioned the impact of some of the marquee players.
Former Juventus striker Alessandro Del Piero, 40, ex-Arsenal midfielder Freddie Ljungberg, 37, and former France forward David Trezeguet, 37, have all featured in the fledgling competition with varying degrees of success.
James told BBC's World Football: "Short of spending an absolute fortune to get younger marquee players, you had to go down the road of getting household names who were a little later on in their years, if not at the end of their careers in some cases."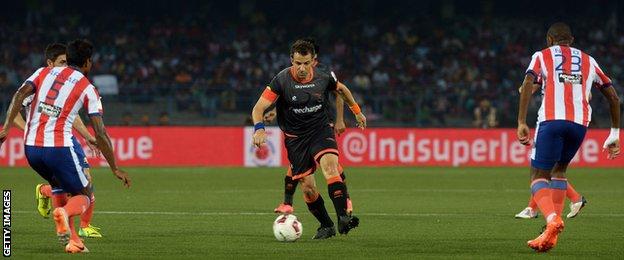 The league, which is largely modelled on the success of cricket's Indian Premier League, began in October with eight franchise teams.
"They have got to do some heavy investment, the infrastructure is near on non-existent." the former Liverpool player said. "Training facilities are very, very hard to come by.
"There is a severe lack of qualified coaches in India."
But James, who won 53 England caps, added: "If they get those things right, the potential is massive."
James says he has enjoyed his time as a coach in what he described as a "remarkably competitive" league and would like to continue his managerial career in England.
He said: "As far as wanting more of it, yes, for sure. I always fancied the chance of doing a manager's job and I'm enjoying this one."
James' Blasters rallied at the end of the season to finish in the top four, before winning their play-off with league-leaders Chennaiyin, 4-3 on aggregate, and securing a chance to win the first ISL trophy.