St Johnstone 1-0 Inverness: Managers react to key Perth decisions
Last updated on .From the section Football
St Johnstone manager Tommy Wright felt the decision to award the Perth side a penalty in their 1-0 win over Inverness Caledonian Thistle was the right one.
Brian Graham won and converted the spot-kick with Caley goalkeeper Dean Brill penalised for his challenge on the striker.
"From where I was it looked a penalty," said Wright. "I've seen it on the video and the keeper has gone with his legs and Brian's told me there was contact.
"He [Graham] maybe put his arms up in the air, but from where I was I thought the referee was going to give a penalty.
"Other people might have different opinions. But the keeper definitely went with his feet, didn't go with his hands, and I think when you do that he leaves the referee with no alternative sometimes.
"Another clean sheet delights me and the overall performance delights me."
Inverness manager John Hughes said "it was difficult to tell" whether or not referee Brian Colvin had judged the incident correctly.
"The reaction of the players gives you a good indication and they were angry," Hughes told BBC Radio Scotland. "They felt it wasn't a penalty.
"It would be wrong for me to make a call on it until I see it. I feel for the referee, he has to call it in an instant."
Caley found themselves down to 10 men minutes after going behind, Ross Draper dismissed for a challenge on Simon Lappin.
"In terms of the sending off, that was closer," Hughes said. "I don't feel it was a sending off. They were all in his face and big Draper just put his hands up to push the guy out his face. That's not violent conduct, that's a poor decision.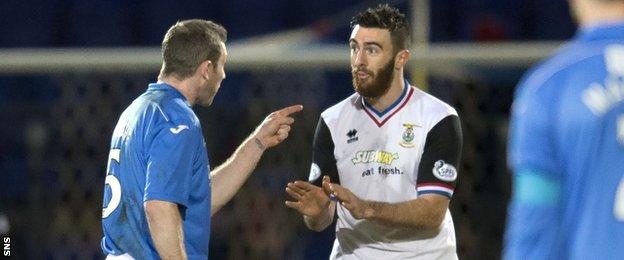 "Big Ross Draper's a big lump of a boy, plays the game in a robust style. He gets a bad rap.
"He gets battered about and shoved off the ball and doesn't get too much. Any time he puts a foot in the yellow cards and the red cards come out but that's maybe the reputation that goes before him."
Giving his view on the sending off, Wright commented: "I haven't seen the red card back. My initial reaction was that he led with his forearm. Whether that was him jumping up to protect himself, it happened so quickly.
"The referee, the linesman and the fourth official have conferred and they've sent him off. I've seen similar incidents be yellow and I've seen them be red, and I don't want to criticise referees for it. I feel they've got such a difficult job.
"It happened so quickly, he's made a decision and he'll say it's the right decision, as he has to.
"I would rather concentrate on the performance. I don't want to be sitting talking about incidents, although people might argue they have an influence on the game.
Despite losing, Hughes felt Inverness were "different class".
"Even in defeat they show spirit, he added.
"We're just looking at heavier pitches and asking if this is slowing our football down. If it is we just need to adjust and get back to winning ways.
"What these have boys have done since I came to the club has been outstanding. I have no doubt whatsoever we will regroup.
"They police their own dressing room. They're a fantastic bunch of boys. I cannot be too critical of them."