Liverpool 2-2 Arsenal: Phil Neville on how Reds dominated midfield
Last updated on .From the section Football

Former Everton and Manchester United player Phil Neville expands on his TV analysis of Liverpool's Premier League draw with Arsenal at Anfield. He explains Raheem Sterling's key role and why it was not Mathieu Flamini's fault that the Reds dominated midfield in the first half.
Arsenal's midfield was overrun at times in their 2-2 draw with Liverpool on Sunday but you cannot blame any of the Gunners players for that - credit has to go to Reds manager Brendan Rodgers for the way he set his side up.
Rodgers was clever because he knew Arsenal like to play with just one holding midfielder, in this case Mathieu Flamini.
Liverpool capitalised by having Adam Lallana and Philippe Coutinho come in from wide and sit either side of Flamini, so he did not know who to pick up.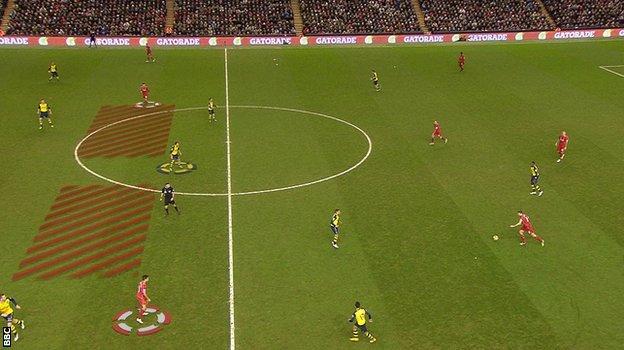 You can control games by outnumbering the opposition in midfield like that, and it was exactly what led to Liverpool's dominance before the break.
Flamini was left in no-man's land but it was not his fault. It would not have made any difference, whoever was trying to do that job for the Gunners.
Liverpool could have had the game won by half-time and, if they were in the ruthless form they showed last season, I am sure they would have done.
But they did not really make the most of the positions they got into and did not punish Arsenal with their final ball.
There is no way Liverpool should have lost, but they needed Martin Skrtel's 97th-minute header to ensure they picked up a point.
Flamini was like a windscreen wiper
As a former defensive midfielder, I have found myself in the position that Flamini was in before half-time and it is a thankless task. I can understand why he was getting so frustrated.
You are trying to do two or three jobs at the same time but you cannot do any of them. I remember coming off at half-time in a game against Liverpool once after being outnumbered like that, and I felt like I had hardly made a tackle, when that was I was there to do.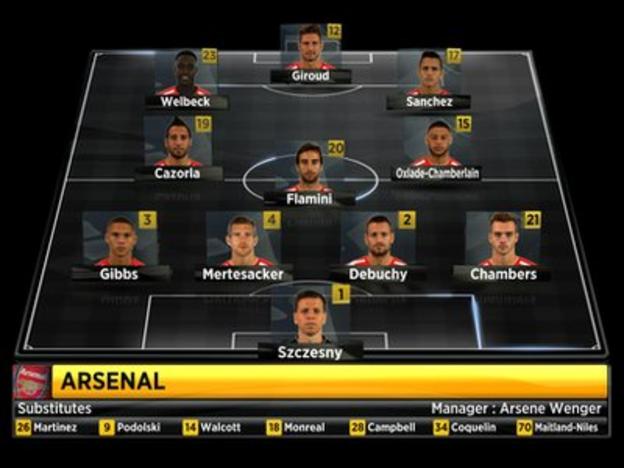 It is almost like a training drill - the sort you do every day. If you set out a square of 40m by 40m and play four versus three, then the four would keep possession all day.
Flamini was left with an impossible job. I would compare it to being like a windscreen wiper - you look left, then right, and try to get across to wherever Liverpool have played the ball, which is usually the opposite side to where you are heading.
You have such a big area to cover that, regardless of the effort you put in, you cannot get near to people in time to break down play because you arrive too late to make the tackle.
Liverpool were playing in what was effectively a 2-2-1 down the middle of the pitch in front of their three-man central defence, with a wing-back on either side.
Flamini had Alex Oxlade-Chamberlain and Santi Cazorla in front of him, but their strengths lie in getting forward and they were not offering him support in dealing with Coutinho or Lallana, or stopping Steven Gerrard and Lucas.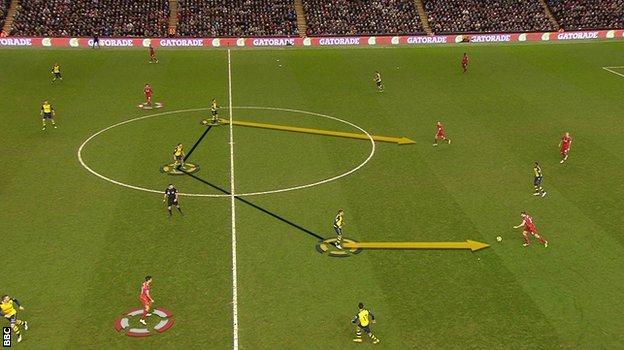 What made things worse for Flamini was that, behind him, there was a huge gap to his defence.
He was bellowing at Per Mertesacker and Mathieu Debuchy to push up but they were worried about Raheem Sterling's pace, so they were dropping deep to stop him from running into space behind them.
Arsenal's full-backs could not step up and come inside either, because they had to be wary of the Liverpool wing-backs, but at times the Gunners had four defenders versus one attacker. That was another reason Arsenal were so badly outnumbered in midfield.
Sterling's pace will give teams more problems
It took Arsenal manager Arsene Wenger until half-time but he did eventually stop Liverpool from dominating quite as much.
Wenger tweaked his system and Alexis Sanchez and Danny Welbeck tucked in from the wings a lot more to give the Gunners more numbers in midfield.
Crucially, the Arsenal back four were also braver and squeezed up to deny Coutinho and Lallana the space they were getting before half-time.
It meant that, although Arsenal did not play well - they had only 36% possession in the whole game - they at least looked a little more solid and compact.
The key to Liverpool looking so dangerous was using Sterling to lead their attack for much of the game.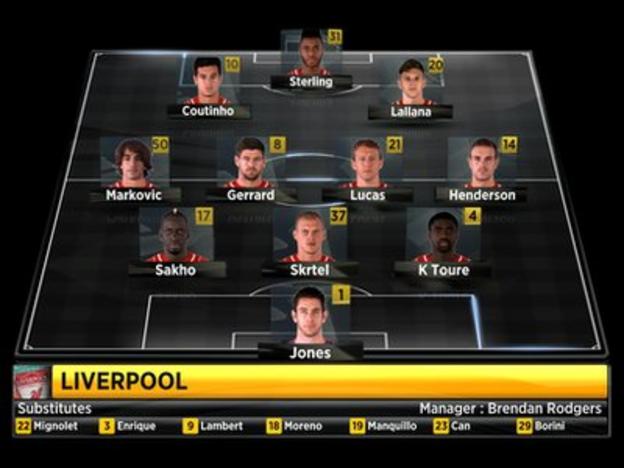 If Rodgers had picked Rickie Lambert or Fabio Borini in the starting line-up, Arsenal's defence would have pushed up straightaway and Liverpool would not have seen so much of the ball in midfield.
Since Sterling was pushed up front for the first time in Liverpool's defeat by Manchester United last weekend, they have looked a far greater threat and much more like the team they were last season.
Regardless of the problems in other areas of their team, getting that sort of intensity back in their attack on a regular basis is the key to a successful second half of the season.
Once they have Daniel Sturridge back fit, it will make a massive difference, but using Sterling in this way means they are definitely heading in the right direction.
Philip Neville was speaking to BBC Sport's Chris Bevan.