Rangers: Plans passed for a new share issue at AGM
Last updated on .From the section Football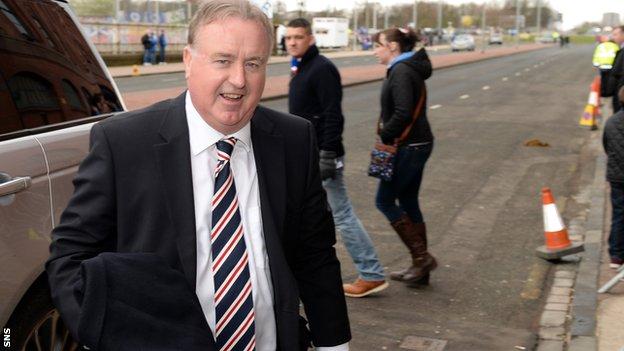 Rangers shareholders voted in favour of a new share issue at the club's AGM.
However, as one of the proposed resolutions was not passed, the club will first have to offer existing shareholders the right to maintain the size of their stakes.
That means a non-shareholder looking to underwrite the new issue can only buy any unsold shares.
Chairman David Somers, chief executive Derek Llambias and director James Easdale were reappointed at the AGM.
Somers received the backing of 61% of shareholders who voted, compared to 88% for Easdale and 90% for Llambias.
Monday's meeting was held the day after Ally McCoist left his post as Rangers manager.
Chairman Somers read a statement at the AGM in which he said he hoped plans for a new share issue would be passed, as fund-raising efforts in 2014 fell short of the amount the club had hoped for.
"We are requesting permission to enable us to issue shares to improve the long term financial stability of the club," Somers' statement read.
However, resolution nine, "To enable the directors' authority for the disapplication of pre-emption rights," was not voted through.
"The board is disappointed that resolution nine was not passed as it limits its options for future funding," Rangers said in a statement to the Stock Exchange after the AGM.

Rangers had asked existing shareholders for fresh investment in the past year, raising just over £3m in September.
They then had to rely on loans from shareholder Mike Ashley as the club's financial position weakened.
As part of previous chief executive's Graham Wallace "120-day" review into the club's finances in 2014, he suggested £20m to £30m was required to get Rangers competing at the top of Scottish and European football.
"After visits to various city institutions the board believed that such a level of expenditure would be supported by the city institutions, and the then monthly rate of loss, would also be supported by the shareholders," Somers' statement continued.
"In the event, this was discovered not to be the case, because when we came to raise funds through a share issue, we soon found that there was a lack of appetite from shareholders to invest significant extra funds just to pay wages and utility bills.
"Accordingly, we have moved to cut costs significantly. Like any household, Rangers can ultimately only spend what it earns and, as has been reported in the media, we have moved quickly to bring our costs down and much more in line with our income.
"Rangers Football Club has been living beyond its means for many years and much of the cost cutting and efficiency improvements should have been addressed years ago by previous boards when we were in the lower divisions. But they weren't, so we are doing it.
Five key areas that will form part of Rangers' future strategy
Developing football performance
Focus on player asset management and youth development
Re-connecting effectively to local and global fan base
Developing "best in class" commercial and operational capability
Strengthening commitment to communities
"A material part of our costs relate to player costs, however, and these can only be addressed over a long period of time because of the length of the contracts. These contracts are often measured in years, not months."
Somers pointed to various "legacy issues" from previous regimes as having to be sorted out within Ibrox to allow the club to move forward.
"To be honest, it is frustrating dealing with legacy issues, because you are effectively looking backwards during this time and dealing with issues you didn't create yourself," his statement continued.
"I know that most fans will not really be interested in such efforts, because it is not about football, but these legacy issues and contracts have had to be dealt with so that we can begin to move forward.
"I was always taught to be cautious, so I hesitate to say that we have dealt with all of these legacy issues, as whenever I think that, another legacy issue quietly appears, but we do seem to have addressed many or most of them. One of our biggest remaining legacy issues is the weak state of the Rangers finances."
Somers, who admitted falling crowd numbers and season ticket sales hit the Ibrox club hard, also insisted that there is an "anti-Rangers feeling" in Scotland.
His statement read: "In these past 12 months, I have been surprised at a number of things. Firstly, the highly negative aspect of most of the media reporting regarding Rangers.
"Secondly, because it is clear to me that a stronger Rangers is good for Scottish football, I have been very disappointed to realise that outside of Ibrox, there sadly still exists a great deal of anti-Rangers feeling, perhaps (although I hope not) even in the football establishment."