Rangers AGM: Fans voice their anger at club's board
Last updated on .From the section Football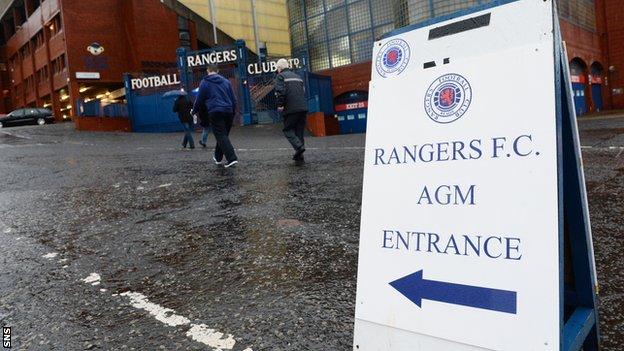 The Rangers board were greeted with chants of "out, out, out" when they took their seats at the club's AGM on Monday at Ibrox.
Further chants of "sack the board" and "scumbags" were aimed at chairman David Somers, chief executive Derek Llambias and James and Sandy Easdale.
Somers was barely able to be heard over booing as he delivered his statement.
In it, he revealed the Scottish Championship club hoped to launch a new share issue to raise much-needed funds.
Somers also said he was surprised by the timing of McCoist's resignation, insisting the ex-boss was "a legend" and adding that he would "never say a bad word about him".

There was laughter from the gathered shareholders when Somers said the board "have got more work to do" and that the club "need to rebuild the board with suitable people".
In response, Somers asked fans to "refrain from any disruptive behaviour", adding: "If anyone gets too rowdy, I will have to ask you to leave."
There were, however, more jeers when he announced he would take two questions at a time and told the audience: "When you get to be chairman of Rangers, you get to do it your way."
Former Newcastle United managing director Llambias, a long-time friend and associate of Rangers shareholder Mike Ashley, was appointed chief executive last week.
Malcolm Murray (Rangers chairman June 2012 - July 2013)
"It's the most arrogant display I've ever seen in a third of a century attending AGMs... a complete disregard for shareholders and fans.
"We ended up knowing less than when we started, which takes a bit of doing.
"The mood in there, I've never known anything like it."
At the AGM, he said the club will continue to cut costs and improve revenue streams, with every penny going on to the park.
Llambias was introduced to booing but he did prompt some applause following his address.
He claimed he had helped the St James' Park club "stand on its own two feet" and would roll up his sleeves to get Rangers back on their feet.
"Not everything I do will be popular, but everything I do will be in the club's long-term interests," said Llambias.
On the departure of the manager, Llambias said it was "McCoist's choice, not ours", adding that caretaker manager Kenny McDowall has the club's "full support".
Former Rangers player John Brown stood up at the AGM to huge applause to ask what involvement Ticketus had in the ownership of the training ground Murray Park and Ibrox.

He also wanted to know what role former directors Charles Green and Imran Ahmad had at the club.
Brown also called the Easdale brothers "stooges" and criticised Somers for failing to have the decency to say a good word about McCoist, "who gave this club everything".
Somers was adamant there was no involvement from ticketing firm Ticketus, who put in more than £30m to the club during Craig Whyte's time as owner.
He added: "I was fascinated when I first became chairman because some people seemed to think I was some sort of love child of Imran Ahmad or Charles Green. I have never met either of them and I can say the people beside me have no involvement with them."
The Ibrox side have relied on recent loans from shareholder Mike Ashley amid a worsening financial situation at the club.
Paul Murray (former Rangers director)
"Mike Ashley has to come out and be clear about what he wants to do with the club. Are his interests Sports Direct or are they Rangers?
"For me, as supporter, it's embarrassing, but we'll come through this. The most important thing is to get people on the board who really care for the club."
Rangers are looking to recoup their £8.3m annual losses before the end of the season to ease their cash problems.
Ashley, the majority shareholder of Newcastle, also owns around 9% of Rangers but has an agreement with the Scottish Football Association that he will not up that to more than 10%.
He and Rangers, however, have been called to a disciplinary hearing at the SFA over his role at the Ibrox club.
Llambias added that he is seeing the SFA on Tuesday.
Rangers went into administration in 2012 and the subsequent liquidation of the former company that ran the club resulted in the Ibrox side playing in the fourth tier of Scottish football.
They are currently nine points behind Championship leaders Hearts as they try to win promotion to the Scottish Premiership.