Bristol Rovers' Lee Mansell: JJ O'Donnell kiss 'defused clash'
Last updated on .From the section Football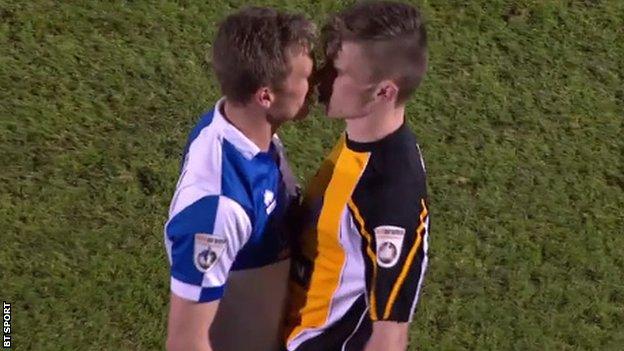 Bristol Rovers midfielder Lee Mansell says he kissed Gateshead's JJ O'Donnell to avoid "doing something silly" after they clashed in Friday's game.
Speaking about the incident on Monday, Mansell, 32, told BBC Radio Bristol: "We either clash heads and he goes down or I end up doing something silly.
"I did it to defuse the situation. It's the first time I've been booked for kissing someone."
He continued: "I got in the car to go home and saw Twitter had lit up and my missus said: 'What the hell were you thinking?'
"But we had a laugh and a joke about it with the lads afterwards. It's another thing to add to the list of daft things I've done on the football pitch."
Mansell, in his first season with the Conference side, scored Rovers' second equaliser in the 68th minute, with Stuart Sinclair netting the winner three minutes later.
Mansell was quick to praise the attitude of Sinclair, who has become a cult hero at the club since his arrival in the summer.
"He's the Energizer bunny," said Mansell. "He's a fantastic lad and deserves all the plaudits he gets.
"You seldom come across players like him in your career who are always willing to learn. He's got an infectious personality.
"Friday night was Sinclair's game. I thought he was outstanding all over the park."
The win over Gateshead moved Bristol Rovers up to second in the table, six points behind leaders Barnet.