Ipswich Town promotion push 'inevitable' - Luke Chambers
Last updated on .From the section Football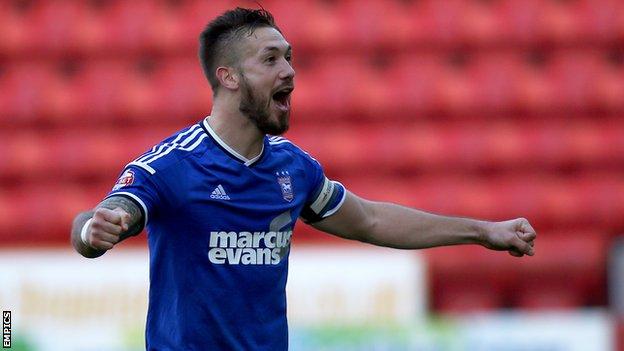 Ipswich defender Luke Chambers says it was only a matter of time before they became promotion candidates under manager Mick McCarthy.
Town are second in the Championship and have only lost once in 17 games.
"When you're successful there is always going to be a focus on you," Chambers told BBC Radio Suffolk.
"We've been under the radar a bit but with the manager we've got, there is always going to be a point where we were pushing to the top."
He continued: "That's because of the way he sets teams up and the success he has had in the past,"
Ipswich will feel the glow of being in the Championship's top two on Christmas Day for the first time since 2004, before facing third-placed Brentford on Boxing Day.
The Portman Road side were not among the pre-season favourites to be challenging for promotion, but six wins in their last eight games has re-enforced their top-six credentials.
McCarthy has experience of promotion, having taken Wolves and Sunderland to the Premier League, and Chambers was a member of the Nottingham Forest team that came up from League One to the Championship in 2008.
"If we continue to play the way we have, I can't see us not being right up there for the rest of the season," said the 29-year-old.
"We're playing with so much confidence. Maybe it's come sooner than expected. But I think the boys have always been quietly confident."
McCarthy, however, has been less eager to talk up his side's chances of reaching the Premier League, with 24 games still to play.
"A mate text me to say second is a nice place to be on Christmas Day," he said.
"I replied saying it's even better when I'm lying on a beach in June."