Charlie Austin: Arsene Wenger praises striker's 'tenacity'
Last updated on .From the section Arsenal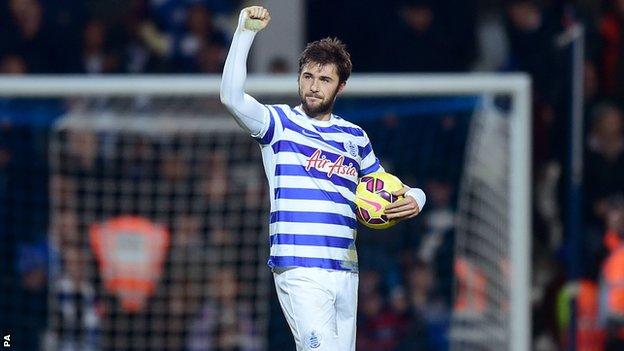 Arsene Wenger has praised Charlie Austin's "mental strength" and "tenacity" as Arsenal prepare to take on QPR on Boxing Day.
Austin, 25, was playing non-league football for Poole Town five years ago.
The QPR striker has 11 Premier League goals this season after his hat-trick in the 3-2 comeback win over West Brom.
"It's good to see that an English striker who had played in lower divisions has managed to come up," said Arsenal manager Wenger.
"That shows mental strength and tenacity - and that is important at the top level."
Wenger said Austin's rise could encourage other clubs to seek out talent in the lower leagues.
"It could bring on the idea that there could be other players down there who are good enough to come up to the Premier League but don't get a chance," said the Frenchman.
Arsenal's Christmas fixture list also features games against West Ham and Southampton.
"It's a tough schedule," said Wenger, whose side lie sixth in the Premier League table and are through to the knockout stages of the Champions League.
Arsenal have been hit by a number of injuries but Wenger said he expected Mesut Ozil and Mikel Arteta to return to action in January, while Theo Walcott, Aaron Ramsey and Laurent Koscielny are due back imminently.
"I believe 2015 can be very exciting if we manage to get our injured players back and have a good run," added Wenger.