Algeria's sports minister dismisses latest Ebosse claims
Last updated on .From the section Football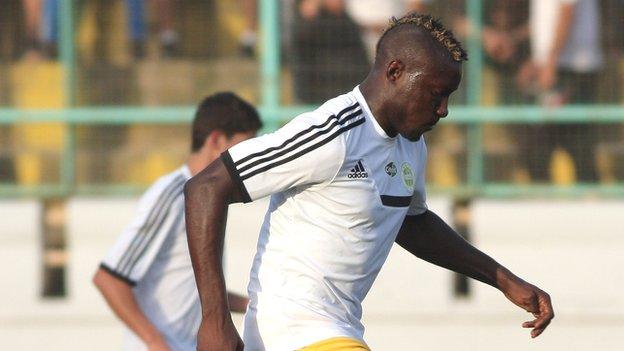 Algeria's sports minister Mohamed Tahmi has insisted the death of Cameroonian footballer Albert Ebosse was caused by fans throwing missiles.
Ebosse, 25, died on 23 August, after his club JS Kabylie lost 2-1 at home.
"We've done our own investigations that show it was an unfortunate accident due to missiles being thrown," he said.
"I'm not a legal expert but I'd say it was involuntary homicide.
"Missiles were thrown - players from both teams were targeted and unfortunately there was an accident.
"The matter is currently in the hands of the courts, who will apportion blame."
Tahmi's latest comments reiterate the original findings into his death carried in Algeria, which stated that the forward died in hospital following a head wound suffered by a thrown projectile.
Shortly after Ebosse's body was sent back to Cameroon, local pathologist Andre Moune carried out an independent post mortem at the request of Ebosse's family.
"When you see the injuries to his shoulders, the only way that can be explained is by a physical attack," Moune told BBC World TV on 18 December.
He reported the player received "a blow to the head" that caused "an indentation of the skull" that impacted his brain and that he had suffered upper body injuries indicating "signs of struggle".
Other signs of violence included "rupture of cervical vertebrae" and a wound to the shoulder.
His findings have been sent to Algerian and Cameroonian authorities for further action.