John Terry: Chelsea captain as good as ever - Jose Mourinho
Last updated on .From the section Football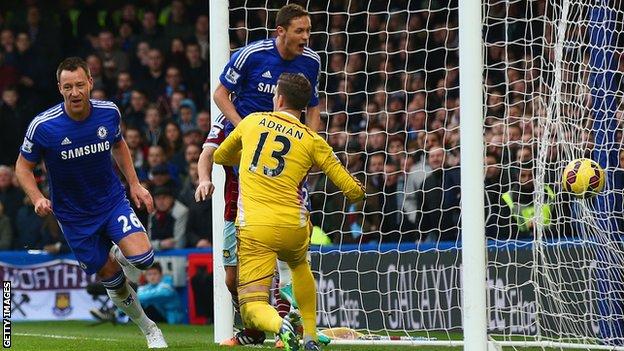 Chelsea manager Jose Mourinho says 34-year-old John Terry is playing as well as when he led the Blues to the Premier League title almost 10 years ago.
"He's full of confidence. I see my John of 2004, 05, 06. I don't see any difference," Mourinho said.
"I only see a difference when his twins are on the training ground. They were born in that period and now they are running and kicking balls."
Terry scored in a 2-0 win over West Ham as his side stayed clear at the top.
The central defender was Blues captain during Mourinho's first spell as manager, helping them to the Premier League title in 2005 with the fewest goals conceded in the competition's history.
Terry then led Mourinho's side to a title defence the following season and an FA Cup triumph in 2007.
Friday's strike was the Chelsea captain's second goal in as many games.
Along with Diego Costa's strike, it helped the Blues maintain a three-point advantage over Manchester City, who completed a 3-1 win away to West Brom.
Faced with a tight turnaround before their Sunday trip to fourth-placed Southampton, Mourinho's side opted to train immediately after their win over West Ham, rather than go through a double session on Saturday.
"I had two training sessions for tomorrow, but they were crying so much in the dressing room I decided to make a change," Mourinho said. "They are training now."
After Sunday's meeting with Saints, Chelsea travel to Tottenham on New Year's Day and host Watford in the FA Cup third round on 4 January.