Garth Crooks's team of the week: Terry, Sterling, Rooney, Sanchez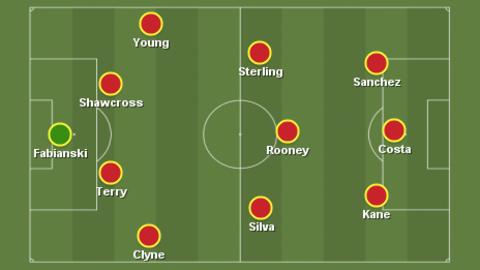 Premier League leaders Chelsea secured a commanding victory over West Ham, while second-placed Manchester City survived a snowstorm to win at West Brom.
Manchester United made it 11 Boxing Day wins in a row by beating Newcastle and Arsenal overcame Olivier Giroud's sending off to defeat QPR and keep in touch with the top four.
Meanwhile, bottom-of-the-table Leicester City's winless Premier League run extended to 13 matches as they lost to Tottenham and Crystal Palace were comfortably beaten by fourth-placed Southampton.
Following the Boxing Day action, take a look at my team of the week and see if you agree with my choices.
GOALKEEPER - Lukasz Fabianski (Swansea City)
What a save by the former Arsenal goalkeeper to deny Christian Benteke in injury time against Aston Villa and secure Swansea three points.
Fabianski is having a good season for the Swans and might have been selected for my Team of the Week on more occasions had it not been for the likes of Joe Hart and Thibaut Courtois.
DEFENDER - Nathaniel Clyne (Southampton)
I had the pleasure of interviewing Nathaniel Clyne for this Saturday's Football Focus (12:10 GMT) at a lovely Indian restaurant in South London and I was impressed with him then. I was even more impressed with the way he dealt with his return to Selhurst Park and Southampton's demolition of Crystal Palace.
If the England international can remain focused and free from injuries, he can be anything he wants to be.
DEFENDER - John Terry (Chelsea)
Jose Mourinho said in his post-match news conference that John Terry was "playing like he did in 2004, 05, 06". High praise indeed against a West Ham side who looked dangerous in the second half, but the Chelsea captain appeared totally unfazed by anything the Hammers had to offer.
He totally outmuscled Andy Carroll and, on this display, Terry could be playing for the Blues until he's 70!
DEFENDER - Ryan Shawcross (Stoke)
Injured in a clash of heads with Romelu Lukaku in the first half for Stoke against Everton and required extensive treatment but nevertheless played on.
The Stoke captain went on to superbly organise his defence and made an excellent clearance off the line. A centre-back made from the same mould as former Potters legend Denis Smith and almost as popular with the fans.
DEFENDER - Ashley Young (Manchester United)
Ashley Young is having a new lease of life at full-back for Manchester United. I singled him out for special praise against Aston Villa on Saturday and he was even better against Newcastle.
He provided some wonderful crosses and seems to be mastering the dying art of tackling at the other end of the field as well. It looks like he is well on his way to making a comeback at Manchester United.
MIDFIELDER - David Silva (Manchester City)
In foul conditions at The Hawthorns, David Silva and his Manchester City colleagues put on a title-winning performance against West Brom to keep the pressure on Chelsea.
The conditions and the fact that they were without a striker could have been a good excuse for the champions to provide a sub-standard display. Instead, Silva and company made the perfect statement.
Beware Chelsea, the title race is far from over.
MIDFIELDER - Wayne Rooney (Manchester United)
There was a time this season when some pundits began to doubt whether Wayne Rooney had the right temperament to lead Manchester United. Not only was I astonished by the notion but utterly convinced otherwise.
His contribution for the Red Devils has been immense and he is an early candidate for my player of the season. A stellar performance by the England captain against Newcastle.
MIDFIELDER - Raheem Sterling (Liverpool)
What a testament to the lad's ability that he can adapt to almost any attacking role on the pitch. This season he's played wide left and right, centre midfield, behind the front two and now centre forward at a most crucial time for Brendan Rodgers - and he's still only a rookie.
Playing Raheem Sterling as a centre forward is a noble act but you get creativity, inspiration and goals when he plays in a deeper position, so the quicker Rodgers buys a world-class striker to assist this gifted young man the better. What's next, Mario Balotelli in goal?
STRIKER - Harry Kane (Tottenham)
This 21-year-old Tottenham striker just can't stop scoring goals.
His first-half opener against Leicester helped Spurs to a third straight league win for boss Mauricio Pochettino. It was Kane's 13th goal in his last 18 matches. I said after Tottenham's victory over Swansea that chairman Daniel Levy could do much worse than offer this lad a long-term contract because if he doesn't, someone else will.
STRIKER - Diego Costa (Chelsea)
Not since the days of Didier Drogba in his pomp did the Chelsea fans have such a relationship with their centre forward - Diego Costa left the pitch against West Ham after 83 minutes to a standing ovation.
The moment that did it for me was when he sent three West Ham players almost out of the ground with one swivel of his hip to make the opening for his goal. Absolutely superb.
STRIKER - Alexis Sanchez (Arsenal)
Poor old Arsenal are still not firing on all cylinders at the moment but they are picking up points - largely due to the superb performances of Alexis Sanchez.
Even after Olivier Giroud appeared to lose self-control against QPR, Sanchez was unperturbed by his departure and went on to produce a wonderful display for the 10-man Gunners. There are only two words to describe the Chilean at the moment: world class.