Chelsea: Is Jose Mourinho right about a campaign?
Last updated on .From the section Chelsea
Is Chelsea manager Jose Mourinho right when he says there is a campaign to influence referees' decisions against his side?
BBC Sport looks at games in which the Portuguese has complained about refereeing decisions but also at matches where opposition managers have criticised those that have gone in Chelsea's favour.
Former Liverpool midfielder Danny Murphy told BBC 's Match of the Day that Chelsea might have been unlucky with diving incidents this season but that there was "no campaign".
"I think that's emotion getting the better of him," Murphy said of Mourinho's verdict.
Crystal Palace 1-2 Chelsea, 18 October - Referee influenced?
Chelsea's Cesar Azpilicueta and Palace's Damien Delaney were sent off in a match which Chelsea won courtesy of goals from Cesc Fabregas and Oscar.
However, following the game Palace's then manager Neil Warnock said referee Craig Pawson was "influenced" by Chelsea players when Delaney was sent off.
"He had four Chelsea players around him," Warnock said. "They made his mind up for him.
"I don't think the referee has a defence."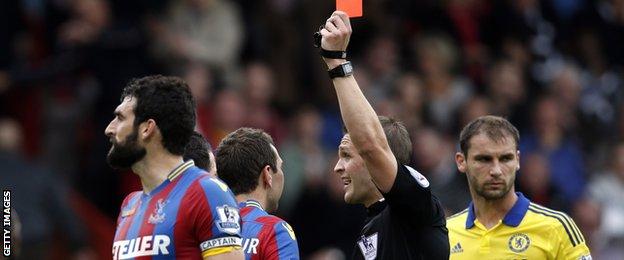 Manchester United 1-1 Chelsea, 26 October - 'I speak with my heart'
Mourinho was less than impressed with referee Phil Dowd after Robin van Persie scored in stoppage time to earn Manchester United a point at Old Trafford.
His side picked up six yellow cards while defender Branislav Ivanovic was sent off just before United's equaliser for a second bookable offence.
The Portuguese also felt his side should have been awarded a penalty when Ivanovic appeared to be wrestled over in the area by Chris Smalling.
"The red card, I saw that coming," Mourinho said. "If I have to speak about that I have to speak about the penalty Ivanovic should have been given.
"But I don't want to speak about the penalty on Ivanovic and the accumulation of yellow cards. I don't want to speak even about throw-ins. If I want to speak I will speak too much - you know I will speak with my heart and get into trouble."
Chelsea 2-0 Hull, 13 December - Swan Lake
Perhaps the most high-profile of the controversies surrounding Chelsea happened when Hull manager Steve Bruce accused Gary Cahill of diving to try to win a penalty.
Bruce said it was like "something out of Swan Lake" and BBC pundit Garth Crooks led the condemnation by saying referee Chris Foy "bottled it".
Bruce was also angry that Cahill was only booked for bringing down Sone Aluko when through on goal, while the England defender later escaped punishment for an apparent dive - an offence which Diego Costa and Willian were booked for in the same match.
Tigers midfielder Tom Huddlestone was sent off for a bad tackle of his own soon afterwards.
"The referee shows his intent because he's booked two players for diving and Cahill is lucky to be on the pitch for his first challenge," Bruce said.
"If he hasn't dived there, then I don't know what one is. We all know what he's trying to do, he's trying to get a penalty. The referee is 10 yards away and there's no excuse."
Bruce added it was "like something out of Swan Lake - it's that blatant", in reference to the ballet written by Russian composer Pyotr Ilyich Tchaikovsky in 1876.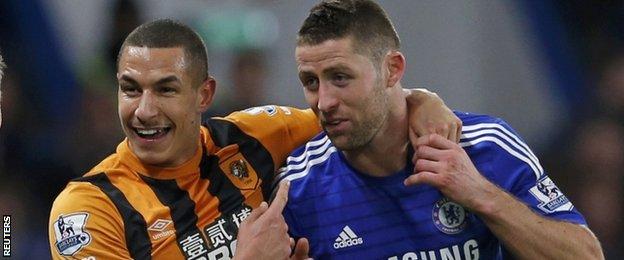 Chelsea 2-0 West Ham, 26 December 2014 - Taking a dive?
West Ham manager Sam Allardyce felt Ivanovic dived to try to win his side a penalty in the London derby on Boxing Day.
Asked if Ivanovic should have been booked for going down so easily inside the penalty area, the West Ham boss replied: "You'll have to ask him. Knock on his door. I'm not paying any more money to the FA."
Southampton 1-1 Chelsea, 28 December - Campaign against Chelsea?
The most recent of Mourinho's criticisms came in his side's final match of 2014, which culminated in his assertion there is a campaign against Chelsea.
Referencing Allardyce's comments, Mourinho said: "After the game against West Ham, Sam is speaking about Branislav Ivanovic, what is this? Then, you come here [Southampton] and you have a crucial decision and the referee makes the wrong decision. He made a mistake. He assumed it.
"Out of nothing, Allardyce starts speaking about Chelsea players diving, then another coach and another coach. The referee changes a penalty for a yellow card."