Newport: Peterborough goalkeeper Joe Day joins in record deal
Last updated on .From the section Football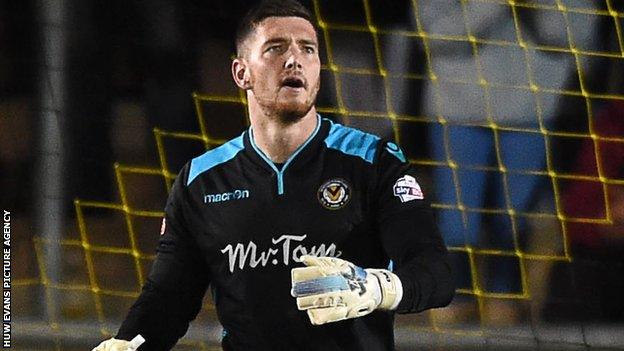 League Two Newport County have completed the club record signing of goalkeeper Joe Day from Peterborough.
He joins for an undisclosed fee which eclipses the sum paid for striker Christian Jolley in 2013, which was reported to be £20,000.
Day, available for Saturday's home game against Carlisle, will stay with the club until the summer of 2017.
"I'm absolutely delighted. It was a great loan opportunity and, as soon as that finished, I was raring to get back," Day told BBC Radio Wales.
Asked about becoming County's record signing, Day said he was "honoured" but unfazed by any potential added pressure.
"I'm not going to let that affect my football," he added.
"I'll do my best to leave the [price] tags to one side and concentrate on playing my best football."
Day made his final loan appearance for County in their 3-1 win at Bury on 22 November.
The Exiles have lost just once in their last 12 league games and moved up to fifth place in the table thanks to a 1-0 win at Cheltenham on Sunday.
After the game, County manager Justin Edinburgh said one of his goalkeepers may have to leave in the January transfer window if Day signed permanently.
"We've got three very good goalkeepers at the club, but obviously one will probably have to leave," he said.
Asked what the deal would mean for the future of Lenny Pidgeley, 30, Edinburgh said: "There would be discussions."

Edinburgh picked out 21-year-old goalkeeper Jamie Stephens, who has been picked ahead of Pidgeley in the last five games, for particular praise after the victory against Cheltenham and says Day will have a difficult task earning his place back.
"[Day] was immense when he was here. But . . . he'll have to work ever so hard to get that form back to displace Jamie," he said.
"Jamie is a quality keeper, young in age, lots to learn, but the way he played [against Cheltenham] it's going to be hard for anyone to displace him out of the team.
"That's back-to-back clean sheets. He's only had one defeat since he came into the side.
"Jamie has taken the opportunity that came his way. He's made some great saves at vital times."