Alan Irvine: West Brom manager's future in balance
Last updated on .From the section Football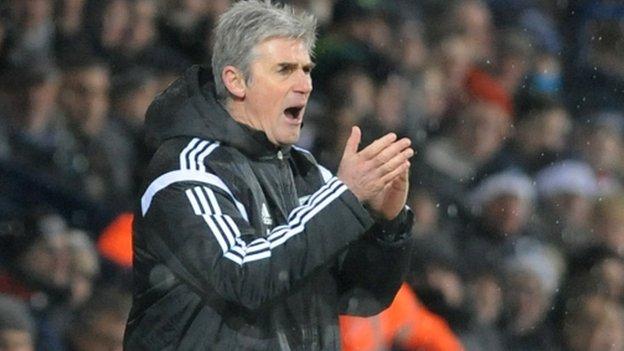 West Brom are not expected to make an announcement on Monday about the future of manager Alan Irvine.
The result leaves the Baggies one point above the relegation zone after a run of two wins in 13 games.
Chairman Jeremy Peace is weighing up options before a Premier League trip to West Ham on New Year's Day and Sunday's home FA Cup tie against Gateshead.
BBC Sport's Pat Murphy reports: "Money is not a factor because the imperative for Mr Peace is to stay in the Premier League but he's genuinely fond of Irvine.
"He knows how popular he is with the first-team squad and - as a left-field choice by Mr Peace last June - doesn't want a fourth head coach in just over a year, with his own reputation suffering a further blow.
"Mr Peace also knows the market for alternatives is hardly stimulating. He will not dismantle the continental-style model of a head coach working to a technical director, rather than the traditional system of a manager working to a chairman - and many possible candidates like Tony Pulis won't agree to the West Brom structure.
"But a key factor is Irvine's lack of popularity with a vociferous section of the West Brom season ticket holders who were dismayed at the appointment of a comparative unknown and have never given Irvine a chance. Just one win in the last nine and five home defeats in the Premier League haven't helped Irvine's cause.
"So the chairman is wrestling with a major dilemma."
Irvine, who was named as successor to Pepe Mel in June, has admitted his future is uncertain.
"Obviously it is up to other people [about my future]. All I can do is keep working as we do and we will see what happens," he said.
Although he had stints in charge of Preston and Sheffield Wednesday, his move to The Hawthorns was regarded as a surprise, with Baggies fans quick to question his appointment after spending three years as head of Everton's academy.
"All I can do is work as hard as I do and keep on trying to get the right kind of performances and results," Irvine said.
Irvine's first signing at the Hawthorns, Joleon Lescott, says the players want him to remain as head coach.
"That has never, ever been in question," said the England international defender, who joined the Baggies in June on a two-year contract.
"It's wrong that he is under pressure because it is the players out there who have put in performances like that, and are not getting results."
Lescott, 32, acknowledges the supporters' frustrations but insists the players are focused on improving upon recent results.
"They are entitled to their opinion. Some of it is harsh, but they paid their money and travelled up to Stoke, so they are entitled to their opinion," he continued.
"But hopefully they understand we are trying, and we are behind the manager and want to win games."
BBC pundit Phil Neville, who was at Everton when Irvine was assistant manager at Goodison Park, told Match of the Day: "I think he has what it takes to be a manager at this level.
"You saw that his team were all working for him. The problem is they're getting punished for individual errors. But they should stick with him. He needs to start winning games though."