Aston Villa's Tom Fox in talks to keep star players
Last updated on .From the section Football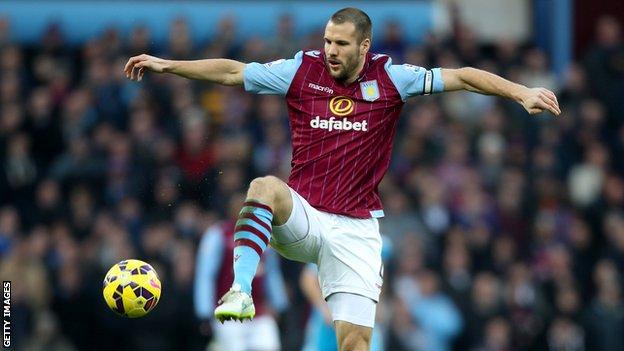 Aston Villa chief executive Tom Fox sees talking to their players about off-field matters as a key part of keeping them at the club.
Defender Ron Vlaar and midfielder Fabian Delph, out of contract in the summer of 2015, have been linked with New Year moves away from Villa Park.
There has also been speculation about striker Christian Benteke's future.
But Fox told BBC WM 95.6: "We talk to every player who is part of our long-term plan."
He continued: "I have spoken to Ron. I have spoken to Fabian. It's important for the players, just as importantly as it is the fans, for them to know that the club is making progress in these areas.
Villa's most recent big money departures

Player

Sold to

Date

Price

Gareth Barry

Manchester City

2 June 2009

£12m

James Milner

Manchester City

18 August 2010

£26m

Ashley Young

Manchester United

23 June 2011

£17m

Stewart Downing

Liverpool

15 July 2011

£20m
"They're not really sexy, they're not much fun to talk about and they aren't very visible, but they're critical to the journey we're on and it's important that our players understand that. I want an opportunity to tell them where we're going.
"What I'm talking about are the changes on the football side of the business and the investments we're making in the commercial infrastructure of the club."
Top-level interest in Villa's players has apparently been minimal in recent seasons since the multi-million pound departures of Gareth Barry,James Milner,Ashley Young and Stewart Downing in the space of two years.
The exception to that for the majority of his time at Villa has been 24-year-old Belgium international Benteke, who submitted a transfer request in July 2013 but later signed a four-year contract which ties him to the club until the summer of 2017.
Villa's three most sought-after assets

Player

Signed (fee)

Date (Villa boss)

Record

Fabian Delph

Leeds United (£8m)

Aug 2009 (Martin O'Neill)

115 games, six goals

Ron Vlaar

Feyenoord (£3.2m)

Aug 2012 (Paul Lambert)

76 games, two goals

Christian Benteke

Genk (£7m)

Aug 2012 (Paul Lambert)

77 games, 36 goals
The improved international standing of both 29-year-old Dutch defender Vlaar and 25-year-old England midfielder Delph has earned them admirers too.
But, having revealed the full extent of Villa's rejuvenated ambitions under owner Randy Lerner earlier this month, Fox remains insistent that the club do not become a stepping stone to the Premier League's highest echelons.
"Our philosophy is that we want to develop a good bit of our talent internally," said Fox. "We have a good track record of doing that and, when those players develop, we want to keep them at our club.
"If the club are competing at the top of the league and going deep into cups, I think the players will want to stay at the club and that's something we're working very hard to achieve."
Villa stand 13th in the Premier League going into 2015, five points clear of the relegation zone but 12 points adrift of a European place.