Rangers: Club respond to consortium funding offer

By Chris McLaughlin
BBC Sport
Last updated on .From the section Football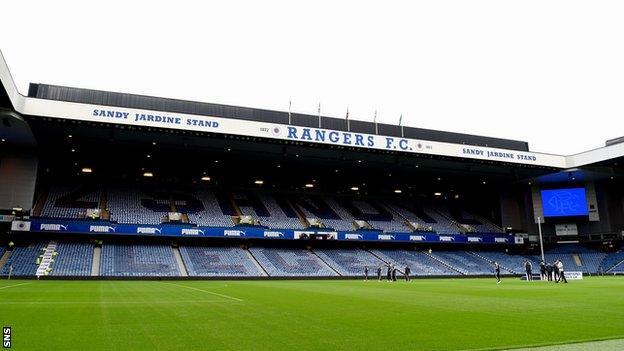 Rangers could be close to securing fresh investment from a consortium which includes Douglas Park.
Businessman Park, George Letham and current shareholder George Taylor offered the club £6.5m in return for shares and representation on the board.
BBC Sport has learned Rangers directors have responded to the offer with investment options including buying in through a share issue or secured loan.
It is understood the board is open to negotiations regarding representation.
The group, who have already provided Rangers chairman David Somers with proof of funding, sent their offer to the club after their AGM in December.
The consortium have acknowledged the Rangers board's response to their offer, but any deal is still some way short of completion.
"I would say representatives of the company have made contact with our group following our original proposal and we are considering our response," said a spokesman for Park, Letham and Taylor.
In their annual accounts, Rangers revealed they need £8m of new funding in January to stay afloat for the next year.
A new share issue is set to be launched in January and Park, Letham and Taylor want to buy the 40,739,000 shares due to be issued.
However, as a result of a vote at the AGM, current shareholders will have first refusal on the new shares set to be issued.
Letham has already loaned the Championship club money.
Park, who owns coach hire firm Parks of Hamilton, is one of Scotland's most successful businessmen, and Taylor already owns 3.2% of Rangers.
Newcastle United owner Mike Ashley, who owns around 9% of Rangers and has provided the club with £3m in loans, has an agreement with the Scottish Football Association that he will not up that percentage.
Rangers spoke to the SFA with a view to Ashley upping his stake but that was rejected by the game's governing body.