Jersey FA boss says there will be no repeat of Muratti controversy
Last updated on .From the section Football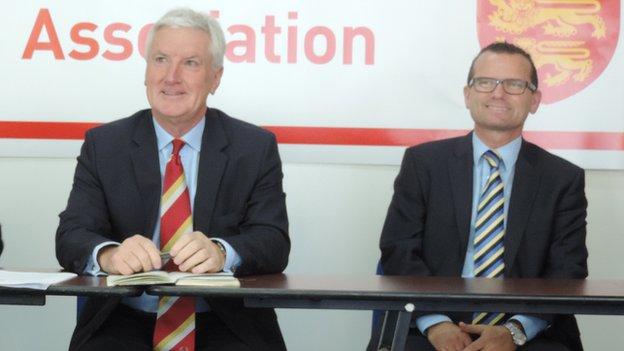 The president of the Jersey Football Association says a repeat of the selection row that marred this year's is unlikely.
Craig Culkin after a disagreement over selecting former professional Michael Weir.
and JFA president Phil Austin expects that the new manager would discuss any such selection.
"He'd talk to us beforehand, I'm very confident about that," he said.
Jersey-born Weir was eligible to play in the game, but the JFA felt it was unfair on others who had been playing regularly on the island.
Austin claims Culkin reneged on an agreement not to play Weir.
"The JFA heard through a third party that the management team wanted to parachute him back in for the Muratti and we felt as a matter of principle that that wasn't right," Austin told BBC Radio Jersey.
"The management team weren't very happy about it, but they accepted the decision and that was the way it was until the day before.
"I was travelling back from holiday and heard that the squad had been announced and the management team had included that player and we weren't very happy about it.
"It was a matter of principle for us and integrity, and that's the way we like to do things, so there was a parting of the ways."
Austin said he had already discussed the issue of selecting players who may not have played in Jersey that season with Reilly.
"We've got young players at the moment who are playing and studying at American universities and one of them has contacted me and said he's back for Christmas, but won't be back again until May, so will he be able to play in the Island Games?
"I said, go and discuss your availability with Jimmy Reilly and then Jimmy will come and talk to us about it," he added.
Jersey are in action on Sunday when they play a match against