Dave Whelan: Wigan owner given six-week ban and fine by the FA
Last updated on .From the section Football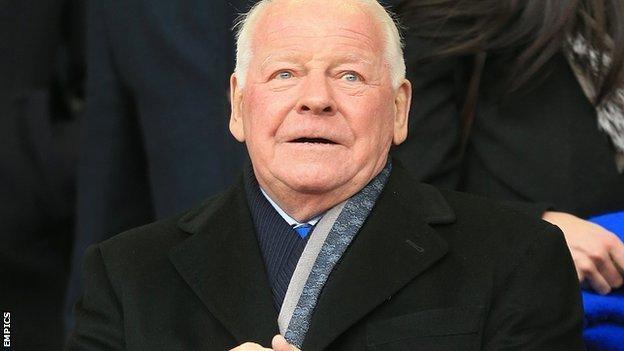 This story contains language which you may find offensive.
Wigan owner Dave Whelan has been given a six-week ban from all football-related activity and fined £50,000 for making racist comments about Jewish and Chinese people.
The 78-year-old, who has a week to appeal against the punishment, was also ordered to attend an education programme run by the Football Association.
Last month, Whelan accepted a charge but denied remarks he made during a newspaper interview were racist.
The FA Disciplinary Commission said it was "satisfied" Whelan "is not a racist" and did not intend to cause offence by his comments.
Whelan stated in November that he would resign as Wigan chairman if he was "found guilty of being a racist".
BBC Sport's David Ornstein:
"It is understood Wigan have strongly advised Whelan not to appeal against his punishment.
The Latics do not feel the ban affects their business because the owner is not involved in the day-to-day running of the club. It is understood he is not involved in transfers and is not a signatory on deals, limiting the impact of this in the January transfer window."
Whelan said he was misquoted in an interview with the Guardian last month, during which he used the term "chink". The Guardian also reports the businessman said: "Jewish people chase money more than everybody else."
Whelan subsequently apologised for any offence caused by his comments, in which he was defending the appointment of Malky Mackay as the club's new manager.
Mackay is currently under investigation by the FA regarding allegations the Wigan boss sent "sexist, racist and homophobic" text messages during his time in charge at Cardiff.
Earlier this month, the FA ruled Whelan's comments constituted an aggravated breach of rule E3[1] in that his comments were "abusive and/or insulting and/or constitute improper conduct and/or bring the game into disrepute".
The governing body also looked into other comments made by Whelan about Chinese people in a December interview with the Jewish Telegraph.
The FA Commission said in a statement: "We are satisfied on the evidence before us that Mr Whelan is not a racist.
"We are equally satisfied on the evidence before us that Mr Whelan did not intend to cause any offence by his comments."
But the commission added that it had to "view the comments objectively and Mr Whelan's subjective intentions were irrelevant as far the ruling was concerned".
Simon Johnson, a former FA director who is now chief executive of the Jewish Leadership Council, welcomed the governing body's action.
He said: "The decision is an important one because it establishes, and I agree, that Mr Whelan is not racist but that is irrelevant. He came out with comments that were racist and therefore they have issued this punishment for a breach of the rules.
"I have never called for him to resign. I simply called for him to withdraw his comments and apologise for them and that is what he has done."