Steven Gerrard: Liverpool losing 'red heartbeat' - Rafael Benitez
Last updated on .From the section Football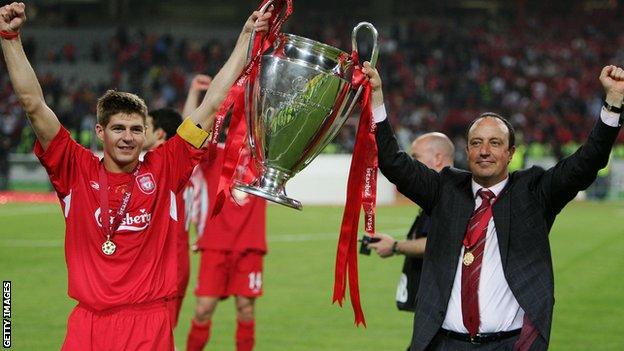 Former Liverpool manager Rafael Benitez says the club will lose their "red heartbeat" when Steven Gerrard leaves.
On his official website, Benitez said: "Liverpool is not just losing a great athlete or a great footballer. The club is losing its red heartbeat."
Current boss Brendan Rodgers said the word legend did not do Gerrard justice.
Benitez, who worked with Gerrard from 2004 to 2010 at Liverpool, said: "If I could think of one word to describe Steven Gerrard it would be passion.
"He was my captain for six seasons and we worked closely together to develop a side that could win the Premier League and the Champions League.
"Without Steven we could not have achieved the incredible success that we enjoyed throughout those years."
Benitez was manager of Liverpool when Gerrard inspired a remarkable comeback against AC Milan to win the Champions League in 2005.
The 54-year-old Spaniard added: "The miracle of Istanbul was only possible because of him. Steven inspired the team that night, refusing to believe it was an impossible job at half-time against AC Milan.
"He nearly always thrived on the big occasion, producing one of the great FA Cup goals as we beat West Ham at the Millennium Stadium in Cardiff."
BBC Sport chief football writer Phil McNulty:
"Steven Gerrard's decision will leave a hole that manager Brendan Rodgers will find incredibly difficult to fill. Gerrard remains an iconic figure, a footballer who arguably competes with Kenny Dalglish for the title of the greatest ever to wear the red shirt."
Read more from Phil McNulty
Rodgers, who took charge of Liverpool in 2012, said: "It is almost an impossible task to find the words to appropriately sum up Steven Gerrard.
"As a leader and as a man, he is probably incomparable to anyone I have ever worked with."
Gerrard joined Liverpool aged nine and has played 695 games in all competitions, scoring 180 goals.
In a statement, Gerrard called his decision to leave the club "the toughest" of his life, confirming that he would continue playing - but not in the Premier League.
Gerrard in numbers

695 - Club appearances (all competitions)

180 - Club goals (all competitions)

494 - Premier League appearances

116 - Premier League goals

114 - England caps

21 - England goals

10 - Main trophies won

8 - Appearances in PFA Team of the Year

3 - Appearances in FifPro World XI

6 - Premier League player of the month
Rodgers added: "This is an era where the word legend is vastly overused, but in his case it actually doesn't do him justice.
"As a player he is immense and the influence he has on games should never be understated.
"At times he has carried this club on his back and in my time here he has always shown the ability that has rightly seen him be regarded as one of the world's best for well over a decade.
"He is also someone who has always put the club and team ahead of himself and I think that will ultimately be his legacy.
"People better placed than me to judge have said Steven is Liverpool's greatest ever player; when you look at the company he is in, that is some statement."
Reaction from Steven Gerrard's Liverpool team-mates
Striker Rickie Lambert:
"Stevie is his own man but he is Mr Liverpool. He is number one for me and I think he always will be. He has meant everything to me growing up as a Liverpool fan."
Defender Kolo Toure:
"Steven is a man for great days. He makes the magic when no-one can make it."
Striker Mario Balotelli:
"I think of him as being at the same level as Pirlo. Vision, technique but he is powerful as well. Steven can do anything, he is an amazing player."
Striker Daniel Sturridge:
"Stevie will always be a legend, not just for Liverpool but to England as well. He will go down in history as one of the best midfielders in the game.
Winger Raheem Sterling:
"He's an inspiration and a great captain."
Liverpool's owners have told Gerrard that he will always have a place at club.
"There is sadness that such a great player and person is leaving and won't be playing for Liverpool beyond this season," said Liverpool owner John W Henry and chairman Tom Werner in a joint statement.
"But there is also a sense of celebration and gratitude, that we've all been privileged to watch and work with one of the true greats, not just of this club, but the game in general.
"His contribution to the club is almost beyond measure."