Steven Gerrard: Liverpool players 'shocked' at captain leaving club
Last updated on .From the section Football
Liverpool captain Steven Gerrard's decision to quit the club at the end of the season was "a big shock", according to Reds midfielder Jordan Henderson.
"We've seen stuff in the newspapers on whether he will renew his contract but everyone thought it would be done," Henderson, 24, told Football Focus.
"But it was a big shock to see that he will be leaving. No one had a clue."
Midfielder Gerrard has scored 180 goals in 695 games for the Reds and helped them win the Champions League, the Uefa Cup, two FA Cups, three League Cups, one Community Shield and two Uefa Super Cups.
However, he has not started all of his side's matches this season, notably the vital Champions League tie away at Real Madrid in November.
Gerrard, who won 114 caps with England, says he will not sign for another Premier League side, but has been linked with a move to Major League Soccer in the US.
Henderson said Liverpool will miss Gerrard's strengths on and off the field.
"It will be difficult because he is such a leader of our group, such a figurehead, and has been for many years," added Henderson. "We just have to try and deal with it the best we can."
Former Reds striker John Aldridge, who scored 63 goals in 104 games for the club, says Liverpool will not be able to find a direct replacement.
"It's a day I have been dreading for a long time," Aldridge told BBC Sport. "He will be hanging up his boots for Liverpool. His boots are unfillable.
"I played against Stevie when I was Tranmere manager and he was 16 playing for Liverpool Reserves against Tranmere Reserves.
"You knew he would be a star. I've been watching Liverpool play for 50 years home and away and he's the best player I have seen for them.
"He is irreplaceable. It's not just on the field, but also in the dressing room where he gets the best out of the players around him."
Former Manchester United and Everton player Philip Neville believes Liverpool are making a mistake by allowing Gerrard to leave.
Neville said: "Steven Gerrard had that unbelievable ability to carry a team on his own, not through shouting and bawling but through his own performance.
"I think Liverpool are missing a trick by letting someone so inspirational leave - they should be offering him a contract for life. He should be the manager in three or four years' time."
Gerard Houllier managed Gerrard at Liverpool from 1998 to 2004 and made the midfielder captain at the age of 22.
The 67-year-old Frenchman believes Gerrard has the qualities to return to Anfield as manager.
Houllier said: "Whether he will come back to Liverpool, only the future will tell. After a break, maybe he will go through training and take his badge to become manager.
"He's got all the ingredients about him to start a career. He was always thinking about the team. He's a star player because he's a team star player. He thinks about the team, the club and the development of others."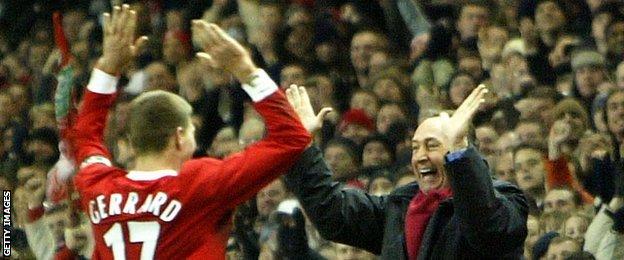 Houllier is head of global soccer at MLS club New York Red Bull and predicted Gerrard would be "extremely successful" if he moved to the US.
Houllier told BBC Radio 5 live: "Put it this way, MLS are very lucky to get him."
Steve Powell, vice president of MLS side Houston Dynamo, said: "I think every team in the MLS would like to sign Steven Gerrard and would find a way to add him to the teamsheet.
"I've heard the same rumours for his next club and although you look at the traditional markets like Chicago, there are a lot of clubs in the MLS who have been successful on and off the pitch and could afford his financial demands.
"The MLS is no longer a landing spot for footballers to retire to and just earn a cheque. Players soon realise it is physical and competitive and there is a lot of travel involved.
"In addition to the salary, any club seriously considering signing him will have to really get their head around expectations he will bring to the table in terms of his leadership and playing ability."