Gary Madine: Coventry City extend Sheffield Wednesday striker's loan
Last updated on .From the section Football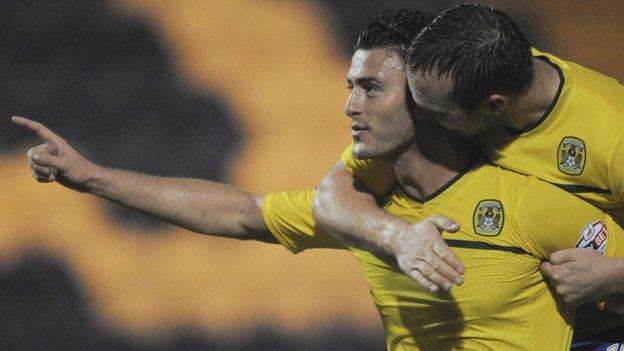 Coventry City have extended Sheffield Wednesday striker Gary Madine's loan spell at the Ricoh Arena for a further three matches.
Madine, 24, who has already scored three goals in 10 appearances in his second stint with the Sky Blues, is now scheduled to stay until 30 January.
It will take him up to the 93-day limit for emergency loans.
"Gary has been an integral part of the team since joining the club," said Sky Blues boss Steven Pressley.
Barren first spell at the Ricoh Arena
Gary Madine failed to score in nine appearances, all of them from the bench, in his first loan spell with Coventry City under Chris Coleman from October 2009 to January 2010
"He has became a focal point of the way we play and that is why he is our number one target over the transfer window.
"We've now got Gary for a further 28 days but, at the end of the month, he will have a decision to make on his future, whether here or elsewhere.
"If he remains surplus to Stuart Gray's plans at Sheffield Wednesday, we've made it clear that we'd love to have him here past his loan spell."
Sheffield Wednesday have retained an immediate 24-hour recall option.