Celtic: Ronny Deila unconcerned by Aberdeen's lead
Last updated on .From the section Football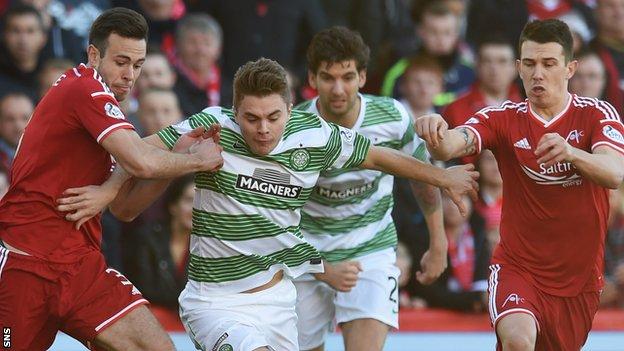 Ronny Deila says he is unperturbed by his Celtic side losing their Scottish Premiership lead to Aberdeen.
"I'm not concerned about that," said Deila. "It is in our hands and, if we win our games, we are the champions and that is what we want to do.
"We are not halfway through yet, so there are a lot of games to go."
Aberdeen have a chance to extend their lead to four points against Motherwell on Sunday and Dundee United could also move above Celtic if they beat Thistle on the same day before the champions travel to Kilmarnock on Monday evening.
Deila admits that the title race could go all the way to May despite pre-season predictions of another easy defence by Celtic.
"This spring will be unbelievably exciting and we are looking forward to every game," he said.
"We have a very big squad and we have performed well.
"It is about winning in the end and, again, I think we are in a good position. It is in our hands."

After a defeat by United and a draw with bottom side Ross County, Celtic have lost 15 points so far - as many as the whole of last season.
"We could be better, but we could be worse," said Deila.
"We are confident that we can win every game. Every game we go into in Scotland we are favourites and that is a good thing.
"We are showing that we are controlling games and have more chances than the opponents, so it is up to us."
The Celtic squad head for a winter break in Gran Canaria following their trip to Rugby Park and could fall further behind in the title race after postponing their 10 January match against St Johnstone.
However, Deila believes Celtic's experience of winning the title over the past three seasons will stand them in good stead in the second half of the campaign.
"That is very important, to know the demands and know how to focus when things are tight and that is something that there is a lot of in this squad," he added.
"We have the experience of this. It is about us and, if we win every game, we will win the league.
"We can't think about what the other teams are doing.
"It could be very close and, if they win a lot of games, it will be close."