Ched Evans: FAW must block Wales return - Nathan Blake
Last updated on .From the section Football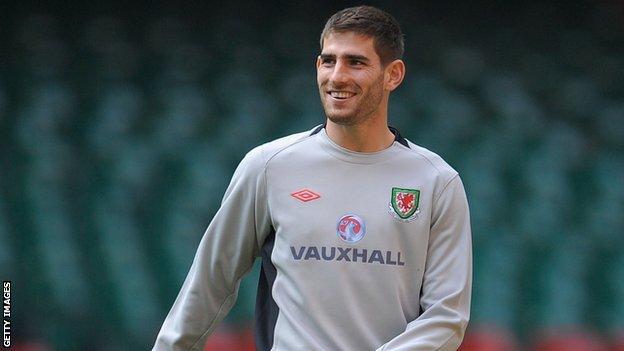 The Football Association of Wales should announce that convicted rapist Ched Evans will never play for his country again, says former Wales striker Nathan Blake.
He was released from prison in October 2014 after serving half of a five-year sentence for rape.
"They'd be better just coming out and making a straight [statement]," Blake told BBC's Radio Wales Sport.
"We cannot afford to [pick Evans] because he is convicted of this crime."
Blake, who scored four goals in 29 games for Wales, said the FAW would benefit from making a clear stance as it would end speculation over a possible international comeback for Evans.
Ched Evans's career

Club

Games

Goals

Manchester City

16

1

Norwich City (loan)

28

10

Sheffield United

113

48

Wales

13

1
Evans played for Sheffield United at the time of his conviction and, after his release from prison, was initially given permission to use the League One club's training facilities.
The Blades later retracted their offer after strong opposition from some supporters and club patrons.
More than 165,000 people signed a petition opposing Evans's possible re-employment by the club.
Evans continues to maintain his innocence. An inquiry into the conviction is under way.
Blake added: "None of us are perfect. Only one man walked the earth without sin, so we've all done things wrong.
"Some things are deemed to be far worse than others and this is one of those situations.
Nathan Blake on Ched Evans
"As much as he might say he's not a role model, there'll be thousands of fans who'll say "well, my son adores you" and you are."
"He's in a situation where there is really no comeback, because you're never going to get the forgiveness of day-to-day people, women, men, mothers, sisters, fathers.
"As much as he might say he's not a role model, there'll be thousands of fans who'll say 'my son adores you', and you are.
"He might think he's not a role model, you might think he's not a role model, but some do."
Hibernians are 15 points clear at the top of Malta's domestic league having dropped just two points in 16 games.
The champions of Malta will enter next season's Champions League at the second qualifying round.