American businessman Robert Sarver bids for Rangers

By Richard Wilson
BBC Scotland
Last updated on .From the section Football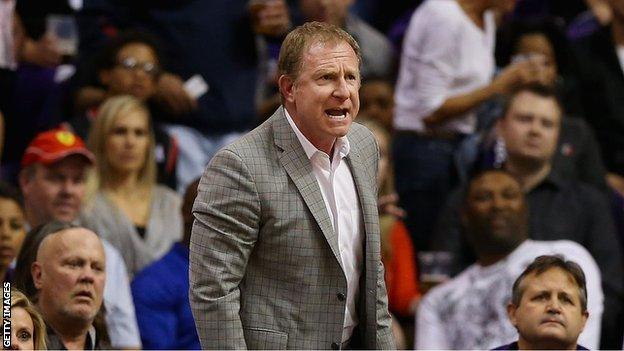 The owner of Phoenix Suns basketball team has made an £18m offer to buy a controlling stake in Rangers.
Robert Sarver, an American financier, made the offer just after Christmas in an email to Rangers International Football Club chairman David Somers.
Sarver, 52, asked the board to call a general meeting to ask shareholders to approve the issuing of new shares.
Subsequent share purchases by Douglas Park's group and make his bid unlikely to succeed as it stands.
Sarver, who also owns the Phoenix Mercury Women's National Basketball team, submitted his offer at the same time to WH Ireland, which manages RIFC's listing on the Alternative Investment Market.
The American, who is chief executive officer of Western Alliance Bancorporation, which is listed on the New York Stock Exchange, was also prepared to spend an additional £15m to buy out any remaining shareholders should his offer have been accepted.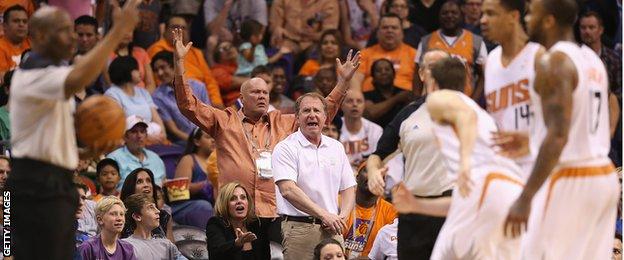 He was initially committed to buying 100% of Rangers, but with Park, George Letham and George Taylor now owning almost 20%, and King almost 15%, that is unlikely. At least another 15% is held by supporters who are unlikely to want to sell their shares.
At least 75% of shareholders would have to agree to new shares being issued to a non-shareholder at a general meeting, after resolution nine was defeated at the annual general meeting in December.
However, the BBC has learned Sarver is prepared to work alongside fans' groups and other Rangers-supporting businessmen.
"Sarver is a serious player with superb credentials," a source close to the deal told the BBC. "He is a very well-funded, long-term investor with an impeccable 30-year business pedigree.
"He knows what it takes to make major sports clubs successful and would bring a tremendous track record to Rangers.
"He has three sons who are all very keen footballers and he watches their games every weekend.
"He is regarded as a straight-talking and very determined guy with a genuine passion for sport and an impressive record of success at the highest level of US sport and business.
"Of course, he sees this as an exciting opportunity to invest in a major sporting institution, but given his involvement in the NBA, he fully realises that, without the broad support of fans, any proposals are doomed to failure."
For that reason, the source added, Sarver was keen to build a broad-based coalition of fans' groups and prominent supporters who have the club's best long-term future at heart.
"Sarver's previous involvement in major sports shows that the £33m would just be an initial investment. If you are going to rebuild a major club like Rangers and get it back to the very top of the game on a stable and sustainable basis, additional funding will be needed, alongside a strong, experienced and highly professional senior management team," the source said.
"The response of the club's board to this proposal will be extremely important. If there is a genuine wish to act in the best long-term interests of the club, this should be a very straight-forward decision."
Rangers declined to comment.