David Moyes: How Real Sociedad boss beat Barcelona
By Andy West
BBC Sport Spanish football writer
Last updated on .From the section European Football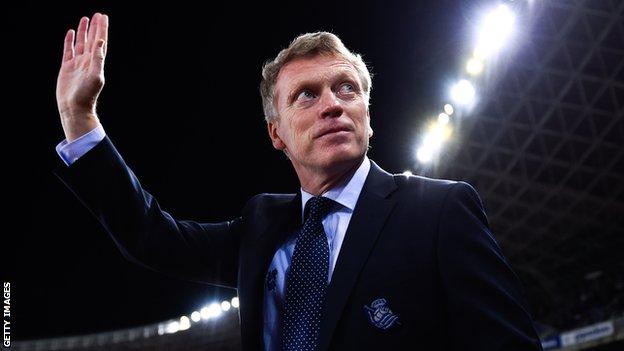 Within five minutes of Real Sociedad's 1-0 win over Barcelona on Sunday night, Spanish broadcasters Canal Plus had given victorious boss David Moyes a rather predictable epithet: 'Braveheart'.
His team's performance was certainly full of that particular quality as they defended with unshakeable resolve to repel Barca's superstars following an early own goal from Jordi Alba. They maintained their clean sheet with a series of blocks, clearances and tackles to give the Scotsman his first major scalp since taking over at the Anoeta in November.
But this victory was about far more than just bravery, and the result serves to further cement the widespread perception that Moyes is already doing a great job of making his talented, but previously somewhat flaky squad a far more durable and organised outfit.
Moyes had prepared for the game by seriously talking up his team's chances of winning, and La Real certainly appeared to have taken his positive outlook on board as they opened the encounter at breakneck pace, immediately forcing Barca onto the back foot and winning a pair of early corners, the second of which led to the opening goal.
The cross which Alba helplessly diverted into his own net was deliciously delivered by classy midfielder Sergio Canales, and his selection was one of the big decisions that Moyes got right on the night.
The former Real Madrid and Valencia man has always been a fabulously talented performer but too often he has failed to show it, hence his departure from those two bigger clubs after largely disappointing spells.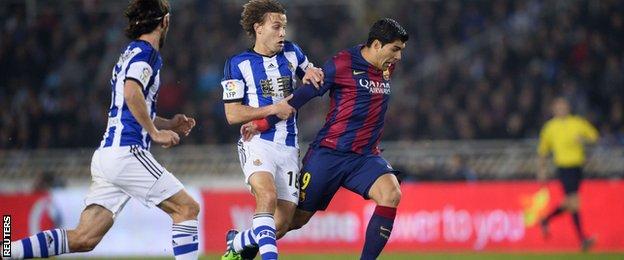 Moyes must have been tempted to leave such an unpredictable player on the bench, but instead he placed his trust in Canales and was amply rewarded - not just with the cross for the goal, but also with a performance full of skilful endeavour from a man who has not always been noted for his work-rate.
Another selection success was young Argentine goalkeeper Geronimo Rulli, who had previously only started one game in La Liga after a summer move from Estudiantes.
Despite his frightening lack of experience, 22 year-old Rulli looked undaunted and played a major role in his team's victory, especially in the final stages when he twice superbly denied Luis Suarez, firstly nicking the ball off the Uruguayan's toes as he raced into the area and then with a reflex stop from a powerful header.
Rather than individual brilliance, however, Real Sociedad's victory was down to a tremendous effort of collective defensive organisation and hard work. These were exactly the qualities the club's president Jokin Aperribay had been looking for when he hired the former Everton and Manchester United boss a few weeks ago.
Aperribay and the club's fans certainly don't have any regrets about the appointment right now.
Without wishing to underplay the achievement of Moyes' team, however, it should be noted their fourth league victory of the season was not an enormous surprise when you consider they had beaten both Real and Atletico Madrid earlier in the campaign.
Furthermore, La Real have now defeated Barca at the Anoeta three seasons in a row and Luis Enrique's men came into the game struggling for form on their travels, having drawn 0-0 at lowly Getafe in their previous away game. And the Catalan club started this encounter with Lionel Messi and Neymar - who have accounted for nearly two-thirds of their La Liga goals this season - both on the bench.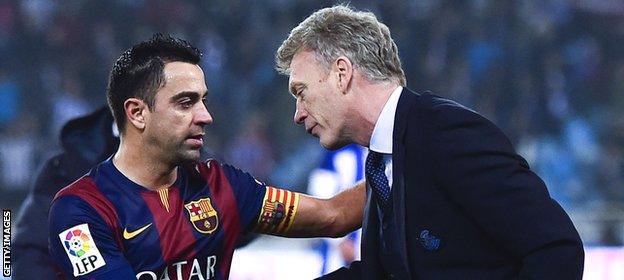 In Spain, Moyes is not the manager under the spotlight following this particular result, with defeated Barca boss Enrique facing stern criticism after an insipid and disjointed performance from his team.
Most particularly, Enrique left himself wide open for condemnation by allowing Messi and Neymar to return to training just two days before the game following an extended Christmas break, and then leaving them out of his starting line-up.
It is easy to say with hindsight, but voluntarily leaving out your best two attacking players for a tough away game is a questionable decision, to say the least. And from a wider perspective there is also a great deal of concern over the direction - or lack of it - in which Enrique is leading his team.
Remarkably, the former Roma and Celta Vigo boss has somehow contrived to field 25 different starting line-ups in his 25 competitive games in charge, and Enrique's seemingly haphazard approach was illustrated by the fact that his team finished the game at the Anoeta with two converted midfielders and a full-back playing in a three-man central defence.
Even though his team are just one point behind La Liga leaders Real Madrid, whose 22-match winning run was ended by a 2-1 defeat at Valencia, Enrique is already starting to feel the heat. And it does not get easier - Barca's next league outing is against reigning champions Atletico Madrid.
Moyes, on the other hand, can look forward to a busy run of fixtures with his credibility enhanced after leading his new club to a famous victory.
Fears of a struggle against relegation have been consigned to the past, and instead La Real can turn their full attention towards an ambition explicitly stated by Moyes when he first arrived at the club: winning the Spanish Cup.
The Basque club are back in action on Wednesday for the first leg of their last 16 Copa del Rey meeting with Villarreal, a good team who are in excellent form, coming into the tie on the back of 11 games without defeat - one of which was a 4-0 victory over Moyes' men.
But with a few more displays like the one they delivered on Sunday, it would be unwise to rule out Moyes and his fellow Bravehearts from cup glory.