Ched Evans: Oldham say talks still ongoing for possible deal
Last updated on .From the section League One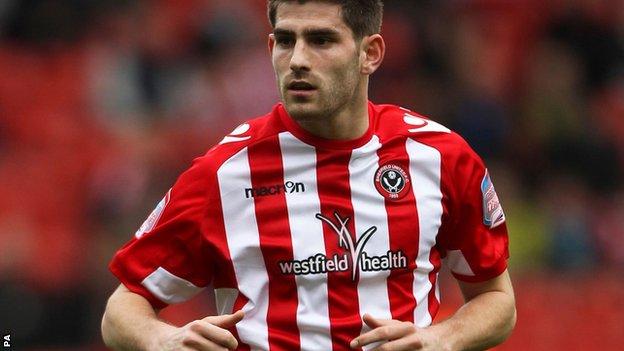 Oldham say talks regarding the possible signing of Ched Evans remain ongoing.
The convicted rapist, 26, was set to join the Latics on a long-term deal and train with the club on Monday.
But more than 30,000 people have signed an online petition urging Oldham not to sign the Wales international striker.
"We continue to have conversations with representative bodies such as the PFA and will conduct due diligence with regard to any decision we make on this matter," Oldham's statement read.
Oldham boss Lee Johnson earlier admitted the League One club were in "a very difficult situation" after expressing interest in signing the former Sheffield United striker.
Labour leader Ed Miliband has already said he would not sign Evans if he was in Oldham's "shoes".
"He hasn't shown remorse and I wouldn't take him on," Miliband told BBC Radio Manchester.
Speaking to media outside the club on Monday, Johnson said it would be a "board decision" if Oldham opted to sign Evans.
But with thousands of people having signed an online petition against a move for Evans, the club is increasingly worried about a backlash from fans and sponsors.
Northumbria's Police and Crime Commissioner Vera Baird has written an open letter calling for Newcastle owner Mike Ashley to end his company's sponsorship deal with Oldham.
She wrote: "Sports Direct needs to speak out now, before any board meeting. Your stance needs to be unequivocally clear - that there is no place in British football for unrepentant convicted rapists."
Sports Direct has declined to comment.
Mecca Bingo and Verlin Rainwater Solutions have already said they will end their association with the club if Evans signs.
Craig Verling, director of Verlin Rainwater Solutions, sponsors of Oldham's main stand, told BBC Radio 5 live: "We have made the club aware as to where we stand.
"I wouldn't want to support a club who supports a convicted rapist."
However, another Oldham sponsor, Web Applications UK, said it would continue to support the club irrespective of its decision over Evans.
Ched Evans's career in numbers

Club

Games

Goals

Manchester City

16

1

Norwich City (loan)

28

10

Sheffield United

113

48

Wales

13

1
The company's chief executive, Craig Dean, said he believed it would be "unethical" to seek to influence the situation in either direction.
"To deprive a human being of the right to work in their chosen profession should be a decision taken by a judicial system that dispassionately balances the rights of the individual against that of the society as a whole," he said in a statement.
"There are cases where such rights should be restricted for the good of the whole, but it is not a decision that should be made by an IT company.
"Whether Oldham Athletic choose to employ Ched Evans is a decision for the manager and board of directors of the club. We will not interfere with that decision."
Meanwhile Debbie Abrahams, Labour MP for Oldham East and Saddleworth, said it would be "wrong" for Evans to start playing again for any club while he was appealing his conviction.
"As he is claiming his innocence and in the process of appealing against his conviction, both he and football clubs should wait for the outcome of this process before even considering a return to the sport," she added.
Labour's Shadow Minister for Sport, Clive Efford, called for the Football Association to intervene and not accept Evans's registration as a player.
"There are many professions that people cannot return to after committing this sort of crime and football must be one of them," he said.
Greater Manchester's Police and Crime Commissioner, Tony Lloyd, said he strongly believed in "the principle of rehabilitation" but said the lack of remorse shown by Evans meant it would be "simply inappropriate" for him to sign for Oldham.
The Criminal Cases Review Commission is conducting an investigation into Evans's conviction, which could take 35 weeks.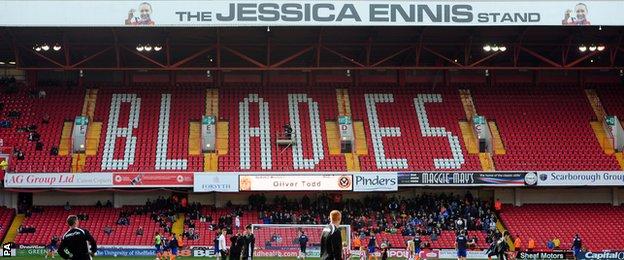 Evans has already held talks with former club Sheffield United about a return to football, but they decided against signing him.
Following his release from prison, he was offered the use of the club's training facilities. But the Blades backtracked following criticism from supporters and club patrons, while more than 160,000 people signed a petition against his return.
Maltese club Hibernians also claimed they had offered him a deal but the Ministry of Justice said Evans would not be permitted to play overseas.
Hartlepool United also ruled out signing the player after boss Ronnie Moore suggested he was considering a deal for the Welshman.
If Oldham sign Evans, it would not be the first time they had recruited a striker who had served a prison sentence.
In 2007, they signed Lee Hughes after the former West Bromwich Albion and Coventry City striker had served half of a six-year prison term for causing death by dangerous driving.
Speaking on BBC Radio 5 live's Sportsweek programme on Sunday, Professional Footballers' Association boss Gordon Taylor - who believes Evans should be allowed to play football again - said he knew of a club that was interested but a deal had not yet been done.
"We've had a number of steps forward and a number of steps back," said Taylor. "I'm not going to count my chickens."