John Sheridan: Plymouth Argyle 'pathetic' in York draw
Last updated on .From the section Football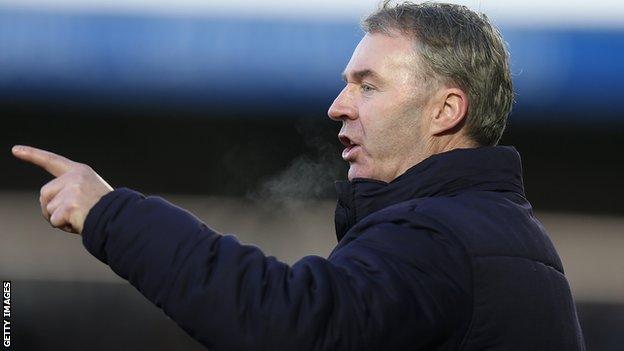 Plymouth Argyle manager John Sheridan pulled no punches when assessing his side's efforts after the
Argyle played against reduced numbers for 70 minutes following Stephane Zubar's dismissal, but only managed two shots on target during the whole game.
"Our performance was pathetic," Sheridan told BBC Radio Devon.
"I apologise to all the supporters who made the journey. I thought it was a shocking performance."
Sheridan has backed his team in recent weeks, despite not winning a game since 20 December, but made no attempt to hide his anger following the game and admitted they were fortunate to come away with a draw.
"Everyone can blame me, but I don't kick the ball, I don't throw the ball, I don't pass the ball, I don't try and kick it 70 yards when I can play a pass five yards, they're decisions that have to be made on the pitch, the manager doesn't do that," he said.
"I've played my strongest team, the team that everyone was telling me could go and get promotion, so anyone who has a go at me, I won't accept it, it's down to the players.
"I don't think I've ever had a go at my players, today was a shambolic performance and full credit to York, they should have won the game two or three nil."