'Soccer dad' Robert Sarver a surprise saviour for Rangers
By Sean Wheelock
US football writer
Last updated on .From the section Rangers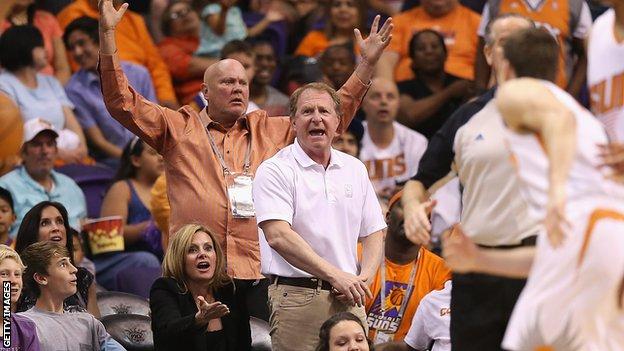 Prior to the news that Robert Sarver is attempting to purchase a controlling interest in Rangers, the only link to football for the owner of the National Basketball Association's Phoenix Suns was him being referred to as a "soccer dad" on the team's official website.
When Sarver became the majority owner of the Suns in 2004, he was virtually unknown on the US sports scene. Instead, Sarver was a big name in his home state of Arizona's banking industry, a field in which his late father, Jack, was also prominent and highly successful.
Now 53 years old and married with three sons (all of whom reportedly play youth soccer), the American Sarver has established himself as one of the more stable, and generally well-liked, owners in the NBA. There have been no Donald Sterling-like embarrassments (see LA Clippers), or Mark Cuban-like outbursts (see Dallas Mavericks).
When he took control of the Suns for the 2004-05 NBA season, Sarver kept head coach Mike D'Antoni, who had been hired the previous year, and president/general manager Bryan Colangelo, son of the previous team owner, Jerry, firmly in place.

During Sarver's first five seasons as owner, the Suns reached the NBA Play-offs four times. Since that span, though, the team has largely struggled, going without a play-off berth. Currently, the Suns possess a record of 19 wins, 16 losses; and rank 23rd out of the 30 NBA teams in average home attendance.
In addition to the Phoenix Suns, Sarver also owns the Phoenix Mercury of the Women's National Basketball Association.
Sarver's interest in Rangers definitely comes as a surprise as he has had absolutely no involvement with football in the US, nor has he been mentioned as a potential bidder for any foreign clubs.
However, Malcolm Glazer had no ties to the sport (he owned the NFL's Tampa Bay Buccaneers) when he made his move for Manchester United. The same for Randy Lerner (then NFL's Cleveland Browns owner) with Aston Villa and John Henry (owner of baseball's Boston Red Sox) with Liverpool. Henry went so far as to say that he knew "virtually nothing about soccer" when taking over at Anfield.
It's clear that this current generation of American sports-team owners now view big-name football clubs as an attractive and even enticing option, even if they don't have a history with the sport.

Long gone in the US is the era when owners made their money by being team owners. The standard now is for these millionaires and, is now more likely, billionaires to amass their wealth in unrelated areas and then purchase one or more professional sports teams as a reward to themselves.
This is certainly the case with Sarver, who has fondly reminisced about attending his first Phoenix Suns game as an eight-year-old. As an adult, he greatly and smartly built upon the millions of his parents to put himself in a position to become the team's majority owner.
But his money was made primarily from banking and, even with a pedigreed NBA team as one of his holdings, banking is still the key to Sarver's financial empire.
What Sarver can no doubt bring to Rangers (or any football club for that matter) is a great deal of cash, combined with more than a decade's experience as a major professional team sport owner.
He is certainly not going to be able to offer football knowledge and insight, not even from that of a casual fan.