Winston Reid: West Ham boss Sam Allardyce hints at illegal move
Last updated on .From the section West Ham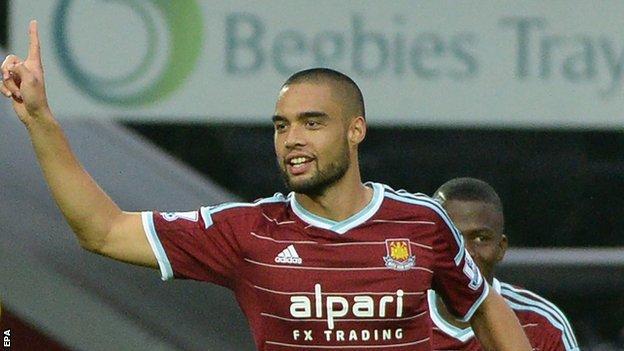 West Ham manager Sam Allardyce has suggested rival clubs may have broken transfer rules by enticing defender Winston Reid to join them.
Reid's contract expires at the end of June and Allardyce says it is "highly unlikely" he will extend his stay.
With under six months of his contract remaining, Reid, 26, is only allowed to speak to foreign clubs but Allardyce believes a deal may have been done.
"You hear rumours. But can we prove it?" said Allardyce.
Players are allowed to sign pre-contract deals with other clubs if they have six months or less left on their current deals - but as Allardyce was quick to stress "only foreign clubs".
He also said the player had rejected "millions" of offers from the Hammers, suggesting his mind was already made up to move after 30 June - despite only being allowed to speak to other clubs since 31 December.
"We have had the regulations for a long, long time," the Hammers boss added.
"If you can prove that clubs have broken the rules, then they are in serious trouble aren't they? But you can't prove it these days. You hear rumours, this, that and the other.
"It might have nothing to do with the two clubs directly, it could be between two agents, so how can you relate that to the football clubs? You can't, so it can all get done that way."
Allardyce added: "If he is not going to sign a contract here, I would find it highly unlikely if it is not already verbally done.
"You have to accept the way it is and contrary to whether it breaks the rules or it doesn't, it happens. It is just one of the ways the football world works."
New Zealand international Reid joined West Ham from Danish side FC Midtjylland in August 2010 and has developed into one of the club's key players.
Allardyce said no official approaches had been made for Reid so far in the January transfer window and that he had no need to "cash in" on the player this month.
He continued: "Why cut your nose off to spite your face? It doesn't look like he is playing with his mind somewhere else to me."
However, Allardyce added: "There is no future for Winston Reid at West Ham at the moment as his contract finishes on 30 June. He hasn't said he is or isn't going to sign.
"You would err that he isn't, by the feel and look of it, at this moment in time."
Transfer rules were changed following the landmark Bosman ruling by the European Court of Justice in 1995, which freed players to move to other clubs when their contracts had expired.