Chris O'Grady: First Brighton & Hove Albion goal boosts striker
Last updated on .From the section Football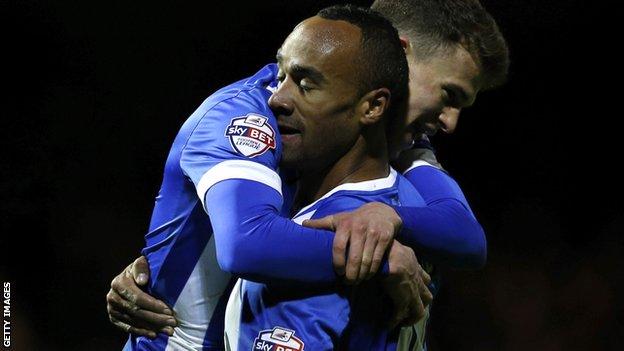 Brighton & Hove Albion striker Chris O'Grady says his frustrating start to life at the Amex Stadium has "tested a lot of relationships in his life".
But he was recalled after Sami Hyypia's resignation and opened his goalscoring account in the 2-0 win over Brentford.
"It's been extremely tough," O'Grady told BBC Sussex.
"It has tested a lot of relationships in my life. Thankfully the strongest one, my family, is still together which is the most important thing."
O'Grady has spent all of his career playing in the Midlands, Yorkshire or the North West and says settling on the south coast with his partner and three children has proved difficult.
He admitted that not establishing himself in Hyypia's side and his loan move back to the Blades have both been factors.
"We've been trying to settle in the area and it's not quite happened on the pitch," the former Leicester trainee said.
"We've got a home we've had for quite a few years back up north and we've been half in that and half down here as we don't know what's going on.
"I've been doing my best but it was not working out. I got a chance to go back up north and find myself and get some fitness.
"My whole career I have performed for people who believe in me. I felt I wasn't sure why I was here."

After scoring one goal in four outings for Sheffield United, O'Grady returned to Brighton after Nathan Jones became interim manager following Hyypia's resignation last month.
He appeared for the Seagulls as a late substitute against Fulham last Monday and, after Chris Hughton's appointment as manager, came off the bench in Saturday's FA Cup third-round victory over the Bees.
O'Grady settled the tie in injury time, having seen two previous goalscoring chances go begging.
"I'm just happy to be able to contribute," he said.
"I was surprised I was supported so heavily by the fans when I came on. They spurred me on.
"I had a couple which could well have gone in. I thought at that point, briefly, that I was never going to score.
"I suppose that is a lesson that if you keep going, you do eventually succeed."