Prince Ali to challenge Sepp Blatter for Fifa presidency
Last updated on .From the section Football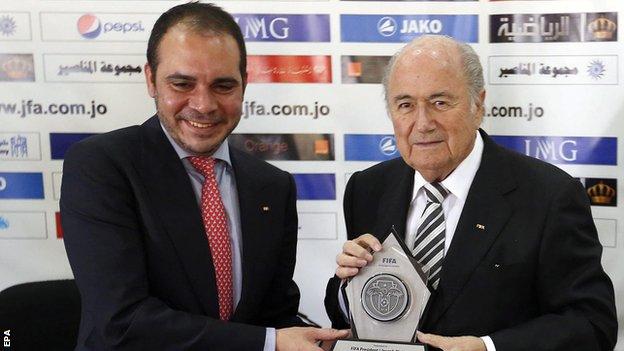 Fifa vice-president Prince Ali Bin Al Hussein will challenge incumbent Sepp Blatter for the leadership of world football's governing body.
The Jordanian Prince, 39, will stand as a candidate at Fifa's presidential election on 29 May, where Blatter, 78, will seek a fifth term of office.
Prince Ali said: "It is time to shift the focus away from administrative controversy and back to sport.
"The headlines should be about football, not about Fifa."
Who is Prince Ali?
The son of the late King Hussein and the late Queen Alia, who died in a helicopter crash in 1977, he attended Sandhurst military academy before joining his country's armed forces. He is the brother-in-law of leading racehorse owner Sheikh Mohammed, the ruler of Dubai. Prince Ali successfully championed the lifting of Fifa's ban on the hijab in women's football.
Prince Ali, president of Jordanian football since 1999, said he had been encouraged to stand by colleagues.
"The message I heard, over and over, was that it is time for a change," the Asian Football Confederation's vice-president said.
"The world game deserves a world-class governing body - an international federation that is a service organisation and a model of ethics, transparency and good governance."
The last four Fifa presidential elections
2011:
Blatter was unopposed because his rival Mohamed Bin Hammam, president of the Asian Football Federation, pulled out after being suspended over bribery allegations.
2007:
No other candidate was put forward to challenge Blatter.
2002:
Blatter saw off the challenge of Issa Hayatou, president of the African confederation Caf.
1998:
The Swiss succeeded Joao Havelange and won a bitter election against former Uefa president Lennart Johansson.
Prince Ali, also head of the West Asian Football Federation, was one of a number of officials who called for the publication of ethics investigator Michael Garcia's report into allegations of corruption surrounding the 2018 and 2022 World Cup bids.
Uefa president Michel Platini is said to be "pleased" that Prince Ali has decided to enter the race and will attempt to get the Jordanian as many votes as possible in Europe.
In a statement, Platini said: "I know Prince Ali well. He has all the credibility required to hold high office. We now await his proposals and his programme for the future of football."
Fifa vice-president Jim Boyce added: "I got a big surprise when I heard that Prince Ali had decided to stand.
"I think Prince Ali is probably his own man and maybe he feels it's something he wants to do and gives people an alternative for the presidential election."
Fifa has suffered a number of damaging corruption allegations during Blatter's 17-year reign.
Last month, former England captain Gary Lineker described the way Fifa was running world football as "a farce" after the governing body became embroiled in more allegations of World Cup bidding corruption.
Analysis: BBC Sport's Mani Djazmi
"Prince Ali is very much the favoured candidate of Uefa, the European governing body, which does not want the incumbent Sepp Blatter to run again. He will know that he has got a chance. We're talking about a royal Arab prince who would not stake his reputation on a flier. But Blatter has been Fifa president since 1998. Others have tried to overcome him but they have failed."
Garcia resigned last month in protest over the handling of his report into bidding for the 2018 and 2022 World Cups in Russia and Qatar.
Fifa cleared both bidding teams of corruption following a series of allegations and said the tournaments would be staged in the countries chosen.
Meanwhile, BBC Sport revealed that secret talks between Fifa officials and Blatter, who has been president since 1998, took place over his future as leader of football's governing body.
Former diplomat Jerome Champagne, 56, who joined Fifa in 1999, is the only other challenger to have confirmed his intention to run for the presidency.
Candidates must declare their interest before 29 January.