Frederic Veseli: Port Vale to extend Ipswich defender's loan
Last updated on .From the section Football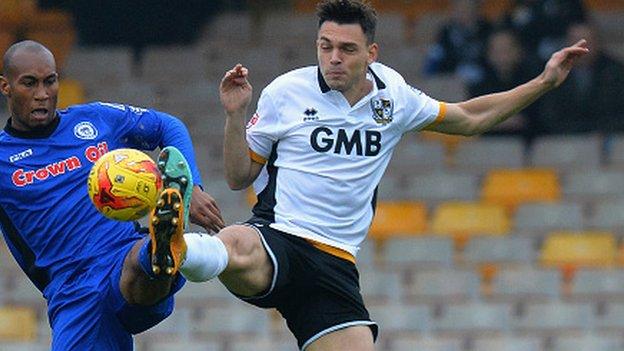 Port Vale are to extend Ipswich Town defender Freddie Veseli's loan deal for the remainder of the season.
As well as Veseli, 22, Vale hope to tie up winger Mark Marshall, 27, on an extended two-year contract as they look to maintain their improved form.
Three wins in four games have lifted Rob Page's side to eighth in League One, just a point off a play-off place.
And Vale chairman Norman Smurthwaite is already considering extending Page's deal beyond the end of the season.
"Rob and I will have a conversation at the end of March, depending on where we see ourselves," Smurthwaite told BBC Radio Stoke.
"That's when we need to start planning. I am not going to do what happened last summer where we were taking players with five minutes to go.
"He will become a great manager but, at the moment, he is somewhat hamstrung because he hasn't got the backroom staff that maybe he would like and he definitely hasn't got the squad that he would like to have picked if he had a clean piece of paper."
Smurthwaite also admitted he will not stand in the way of Marshall, whose current contract runs until the end of the season, if he receives a better offer before the close of the transfer window on 2 February.
"I owe it to the boy to see if anyone comes in for him in January because of what I agreed with him at the beginning of the season, but I'm hoping his phone goes dead for a month," Smurthwaite said.
"Once that is out of the way I'm hoping I can be in a position to tie him up, so we keep him for at least another two seasons. But I have given him my undertaking that, if someone comes in and offers him a deal that we can't match, then he'll have our blessing."