Cardiff City fans' group welcomes meeting as a 'step forward'
Last updated on .From the section Cardiff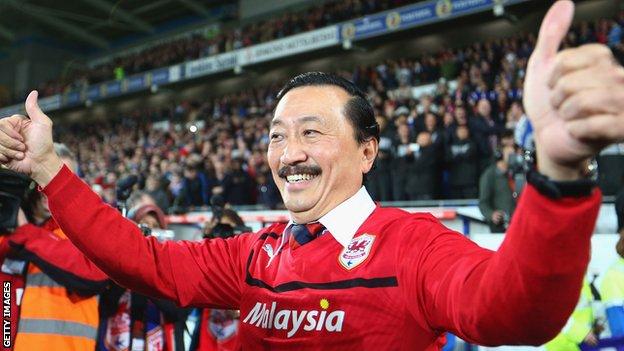 A meeting with fans called for by Cardiff City owner Vincent Tan for Thursday should be seen a "step forward" according Sian Branson of supporters' group Bluebirds Unite.
Bluebirds Unite want a return to the club's traditional blue home shirt and badge, and Branson hopes Tan is considering a U-turn.
"They know that that's what the fans want to talk about," she said.
"Who knows what he's going to say? Who knows what's going to come out of the meeting?"
Tan is not expected to be at the meeting on 8 January, but has asked club chairman Mehmet Dalman and CEO Ken Choo "to invite a cross-section of supporters and stakeholders for a consultative meeting."
A crowd of just 4,194 which saw the Bluebirds beat Colchester 3-1 in the FA Cup third round was the lowest ever Cardiff City attendance at Cardiff City Stadium, which opened in 2009.
The club's average home attendance in the Premier League in 2013-14 was 27,430, but that has fallen to 19,333 this season following relegation to the Championship.
"I think one thing that everybody agrees on is that it could have all been so different," Branson told BBC Radio Wales Sport.
"If Tan is prepared to talk to us then whose to say things couldn't be different? Whose to say there couldn't be a U-turn?
"We can't give up on that because that's what's so important.
"It's important that our traditions are being honoured, recognised and respected."
Cardiff City Supporters' Trust recently wrote an open letter to Tan calling for a return to the club's traditional home blue kit.
Some sections of the crowd turned against manager Russell Slade after the 4-2 home defeat to Watford in their last Championship game.
Branson hopes Thursday's meeting will be the first step in improved relations between supporters and the club
"It's the first time since this whole debacle started that they [Cardiff City] wanted to know what the fans think," she said.
"Let's hope we are not being led down the garden path because for many of us it's not something that we can give up on.
"However, if there's a positive light ahead then we've got to try and embrace it because the way the club is at the moment we can only look at rebuilding, it's not in a good place."
Invitations for the meeting were due to be sent out on Monday, 5 January.
Cardiff's next match is against Fulham at home on Saturday, 10 January.