Ched Evans: League One and Two clubs snub convicted rapist
Last updated on .From the section Football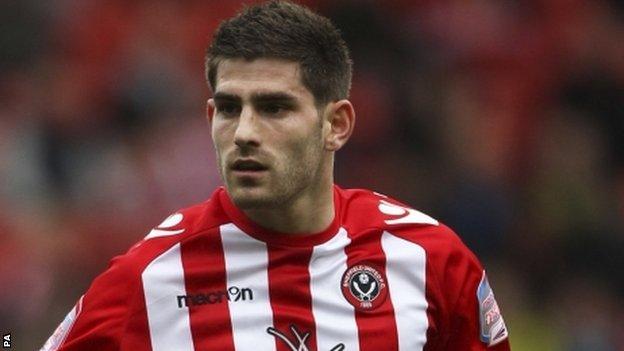 BBC Sport has contacted clubs in League One and Two for their stance on whether they would sign convicted rapist Ched Evans.
Including the Latics, 12 clubs in League One and League Two ruled out the possibility of signing the former Wales international.
The League One club had been close to a deal with Evans before pulling out.
The remaining 36 clubs either said they did not wish to comment or did not respond at all.
Evans was released from prison on 17 October last year after serving two and a half years of a five-year sentence.
News of Evans's potential signing for Oldham broke at the weekend. Unless stated otherwise, all clubs were called on Monday and asked whether they had been contacted by Evans's representatives about the potential for a trial or to sign the striker, and if they were what the likely response would be.
Here are their replies.
League One
Barnsley: No comment.
Bradford City: No response.
Bristol City: This isn't something we really want to be dragged into. No comment.
Chesterfield: Please note that we wouldn't sign him.
Colchester: No response.
Coventry City: We would never be interested in signing Ched Evans.
Crawley: We have not been offered the chance to sign Ched Evans and he is definitely not a player we would be interested in signing.
Crewe: That is something we do not wish to comment on or answer any hypothetical questions on.
Doncaster: No response.
Fleetwood: We do not want to comment. We would prefer to stay away from the entire subject.
Gillingham: Our chairman has not been offered the opportunity to trial or sign the player, therefore he has not considered it.
Leyton Orient: No response.
MK Dons: Ched Evans is not part of our plans.
Notts County: Ched Evans is not someone the directors have discussed with the manager and he is not someone that the club are considering. There has been no contact with Ched Evans or his advisors.
Oldham Athletic: Pulled out following threats to the club's "staff and their families".
Peterborough United: We are not interested in Ched Evans, full stop.
Port Vale: As has been confirmed by chairman Norman Smurthwaite, the club will not be signing Ched Evans.
Preston: No comment.
Rochdale: No response.
Scunthorpe United: It is something we have not thought about, so no comment.
Sheffield United: Previously considered allowing Evans to train with them. Retracted their offer following protests from, amongst others, sponsors and Olympic champion Jessica Ennis-Hill.
Swindon Town: The club would not like to comment on this.
Walsall: It is the club's policy not to divulge private and confidential information regarding such matters. We do not publicly discuss which players we have or haven't been offered by the numerous football agents contacting Walsall FC throughout a season and particularly during a transfer window.
Yeovil Town: No. We have not been contacted by anybody in relation to Ched Evans. The second question is purely academic.
League Two
Accrington Stanley: No response.
AFC Wimbledon: We're not responding to this.
Burton Albion: No response.
Bury: We never comment on players that are not contracted to us, nor do we speculate on players that may or may not be coming to us.
Cambridge United: We won't be commenting on this matter.
Carlisle United: No response.
Cheltenham: The manager does not want to comment. Ched Evans has not been offered to the club.
Dagenham and Redbridge: Dagenham & Redbridge has not been offered the opportunity to sign or give a trial to Ched Evans. Therefore there has been no discussion at board level regarding this matter.
Exeter City: No response.
Hartlepool United: (Statement released at the weekend) Hartlepool United do not intend signing Ched Evans and, for the avoidance of doubt, will not be doing so, irrespective of his obvious ability as a football player.
Luton Town: Nobody has contacted us with regard to Ched Evans and we wouldn't entertain the thought if they did.
Mansfield Town: The club does not comment on speculative stories such as this.
Morecambe: Morecambe have never been contacted in any respect about Ched Evans. As such there has never been any need or inclination to discuss said person in connection with this football club.
Newport County: We will not be answering any of the questions.
Northampton Town: We haven't been offered the opportunity to sign or give a trial to Ched Evans. It is not something the club have considered.
Oxford United: All player recruitment is conducted in private and the club does not comment publicly on players we have been offered, either on trial or permanent basis.
Plymouth Argyle: No comment.
Portsmouth: Portsmouth do not wish to comment on this issue.
Shrewsbury Town: We can confirm Shrewsbury Town have no interest in signing the player Ched Evans.
Southend: There has been no suggestion he has been offered to us. Other than that, no comment.
Stevenage: No we haven't (been offered the chance to sign him or offered a trial). Our regular stance is never to comment on potential signings, targets etc anyway so we won't be making any further comment.
Tranmere Rovers: The club will not be commenting on the matter.
Wycombe Wanderers: I can confirm that we have not been approached by anyone representing the player in relation to any transfer activity. We would prefer not to comment on the likelihood of us taking him on if the opportunity arose.
York City: Our chairman has been quoted as saying that signing him would not be an option.